Editor's Note: The following article is reprinted from CIO.com. Visit CIO's Macs in the Enterprise page.
Google Labs, a place for application and tool prototypes not yet ready for primetime, has welcomed in the past few months a group of newcomers. From Google's first foray into Twitter apps to a more visual way to peruse the best blogs and articles from the Web, this class of Google Labs has something to offer everyone.
Aardvark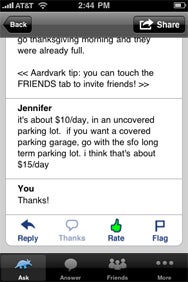 Aardvark, a social search tool, was acquired by Google in February. The way it works is easy: Submit a question to the site, and in about five minutes you'll receive a response from a person in your network, instead of a list of possible answers from a search engine.
Aardvark searches through all the people in your network who are available over IM or e-mail to find the right match for you for the specific topic. Aardvark takes into consideration related topics in peoples' profiles, how you're connected to people and more.
You can access Aardvark via the Web, or through instant messenger programs (such as Google Chat, AIM, Yahoo Messenger and MSN Messenger), Twitter, iPhone, and more.
Public Data Explorer
Google's Public Data Explorer, a data visualization tool, aims to make datasets easy to communicate and explore. Google has compiled a list of datasets that you can explore and embed into blogs and webpages now, such as government debt in Europe, GDP and personal income of the U.S., mortality rates in the U.S. and cancer cases in the U.S.
With these datasets, you're also able to preview how the information has changed over time, which you can customize. Take a look above at the animation that displays unemployment in the U.S. during the past 20 years.
Gesture Search
Gesture Search is a Google Labs tool specifically for Android phones designed to help you quickly find a contact, bookmark, application or music track from all the items stored to your phone when you draw a letter of the alphabet on the touch screen. This tool eliminates the need to rely on the keyboard for search purposes.
Wipe the query by drawing a horizontal line in the bottom query display area, or insert a space into your query by adding a horizontal line on top the search result list. There are a number of other tips and tricks for using this application here.
Google Reader Play
Last month, Google announced Google Reader Play, a new way to browse articles, blogs and more on the Web. To get started, visit the site and scroll through the items by clicking the arrow on the right, or just use the right and left arrow keys on your keyboard to browse.
Reader Play uses the same technology as the "recommended items" feed in Reader to identify the most interesting pages on the Internet. When you use the tool, Google keeps track of the times you star, like or share, and will show you similar items the next time you visit the site. It also transfers these items to your Reader account. Another cool feature: Reader Play also has a built-in TV icon button that begins a slideshow of the items in your queue, taking the guesswork out of navigating.
Follow Finder
Follow Finder is the latest addition to Google Labs and the first Twitter tool that Google has released. The tool analyzes public social graph information (which includes following and follower lists) on Twitter to find people you might want to follow.
You'll receive two different results from the tool. "Tweeps you might like" is a list generated by looking at who you follow, and finding others with similar lists. If people with similar lists tend to follow accounts that aren't in your list, Follow Finder will recommend those accounts to you. "Tweeps with similar followers" is a list generated by looking for people with similar public lists of followers. For example, if Follow Finder sees that you are followed by 10 people, and the same 10 people are following another user, Follow Finder will include the second user in the list.
[Staff Writer Kristin Burnham covers consumer Web and social technologies for CIO.com.]