Apple's $29 iPad Camera Connection Kit has finally arrived, and photographers are getting answers to some of their lingering iPad questions. Will the pair of connectors make the iPad a killer device for photographers in the field? Or will speed and editing limitations keep you from taking it on shoots?
What devices are compatible?
Officially, the connection kit (which is actually comprised of two separate adapters, one with a USB cable and one with an SD card slot) can connect to cameras that support the Picture Transfer Protocol (PTP) or mass storage class protocol. It can also retrieve files from an iPhone, iPhone 3Gs, iPod Nano, and iPod touch. (As we've already covered, there are quite a few unofficial, non-photography uses as well.)
Mysteriously, the iPhone 3G is not officially supported according to Apple's support documentation. However I did have some sporadic luck getting my iPhone 3G and the iPad to connect by leaving them connected for a longer period of time. After a minute or two, the iPhone was recognized by the iPad. Some compact video cameras will also work when connected by USB.
The slot on the kit's SD card reader module can read SD and SDHC memory cards, as well as MMC cards, but it doesn't support SDXC cards. With an adapter, the card reader can also read mini and micro SD cards. Some CF card readers can also connect successfully via the USB module.
What does it do with Raw files?
With the camera connector kit, the iPad can upload and store raw image files such as .nef (Nikon) and .cr2 (Canon). While there isn't any way to edit or work with those raw files on the iPad at this time, the iPad does create an optimized JPEG version of each image. You can use that image the same way as you would any other kind of photo on the iPad; include it in slideshows, e-mail it, or edit it in third-party apps. Your original file remains un-altered and will transfer to your computer exactly as it was on the camera or SD card. These features should allow photographers to use the iPad as a storage, preview, and transfer device for their raw files.
Does the iPad alter my files?
No, the iPad does not do anything to your orignal files, but it does create a 2048-by-1360 JPEG of large JPEG and raw files automatically. The image you see in the Photos app and edit in third-party iPad apps is this downsized version, not your original file. Don't worry, that original file is still safely stored on the iPad, waiting to be transferred to your computer in pristine condition.
If you shoot Raw+JPEG, the two files will be represented by one optimized JPEG, but both original files will be stored on the iPad and sync with your computer. The iPad also creates a smaller version of video files while keeping a copy of the original.
How do I get files onto the iPad?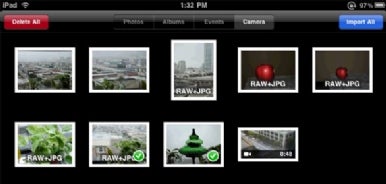 When you make a connection with a compatible device or card, the iPad's Photos app automatically opens up. A new pane called Cameras appears and you see thumbnails of all the photos and videos stored on that device or card. There is no way to see a full size version of these images in the Photos app without first importing the files to the iPad.
You can upload images a few at at a time, or all at once. After a file is uploaded, a dialog will pop-up asking if you'd like to keep or delete that file on the camera or SD card, but only if your device supports deletion from the iPad.
Once the files are on your iPad you can find them in a few places. They're in the general Photos tab and in the two new albums that appear in the Albums tab called Last Import and All Imported. They're also under Events, where a new event is named for the date each image or video was shot. If a file has embedded GPS information, it will even show up in the Places tab, pinned to a map.
How long does it take to transfer images?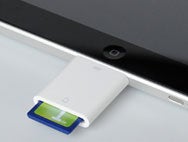 One big concern for photographers hoping to use the iPad in the field is speed. If you want to use an iPad as a place to offload files during a shoot (perhaps to clear off memory cards, create an back-up, or give clients an instant preview of images), it's important that the iPad transfer times be reasonable. If you plan on traveling with an iPad an using the iPad as a storage device, speed won't be as much of an issue.
My test transfer times were reasonable. I filled a 4GB, 133x SD card with Raw+JPEG files, then put the memory card in the SD card reader. The iPad took 30 seconds to load the card, and 7 minutes and 20 seconds to upload all 4GB worth of files. I repeated the test with the same SD card and my Mac, and the files took 5 minutes and 45 seconds to upload. The transfers didn't seem to be a larger-than-usual drain on the iPad's battery, but we will need to run further tests to find out for sure.
Is it easy to get files off of the iPad?
To get a file off of the iPad without syncing, you can e-mail it from the Photos app, or copy and paste it directly into an e-mail. (There are also third party apps for uploading directly to photo sharing sites like Flickr and Picasa.) There are some inconsistencies with the way the Photos app treats JPEGs and raw files in e-mail.
If you e-mail a JPEG directly from the Photos app, it sends the iPad-optimized, 2048-by-1360 image. If you copy and paste that same image from the Photos app into an e-mail, that sends the original, full-sized file. The same applies to video files. However, when working with raw files, these rules are reversed. E-mailing directly from the Photos app sends the raw file, and copying and pasting sends the optimized JPEG file.
Of course you can also sync your iPad with your Mac. If you open Aperture or iPhoto you can import your files directly into that application—choose the iPad from the Devices list in iPhoto, and from the Import list in Aperture. If you use Image Capture, you can drag and drop the original files from you iPad to anywhere on your computer.