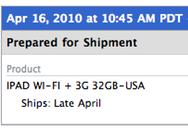 Customers in the U.S. who placed their pre-orders for 3G-enabled iPads early enough may commence refreshing Delivery Status and FedEx.com. The iPad 3G is scheduled to arrive on doorsteps and in Apple retail stores this Friday, April 30.
Most pre-orders for 3G-enabled iPads are now listed as "prepared for shipment" on the online Apple Store's Order Status page. Reports suggest that the 3G models are already in the U.S. awaiting shipment, unlike the Wi-Fi versions, which shipped directly from Apple manufacturers in China.
If you didn't pre-order, don't worry: you can still line up at an actual Apple Store (or Best Buy, or Apple Authorized Reseller) on Friday for your chance to snag one. International customers, on the other hand, still need to wait until May 10 to pre-order an iPad or even find out what they'll cost outside the U.S. If it's any consolation to our friends across the pond, Apple decided to delay international shipments because of the iPad's "runaway" success and popularity in the U.S.
Of course, you can look forward to all manner of Macworld coverage of the 3G-enabled iPad once it arrives.
Apple iPad Tablet Computer
Apple iPad Tablet Computer