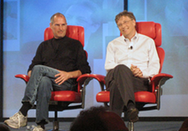 Apple CEO and e-mail pen pal Steve Jobs will be the opening speaker at this year's D: All Things Digital conference, conference producer and host Kara Swisher announced on Tuesday. The conference runs from June 1-3 in the Los Angeles area.
It won't be Jobs's first appearance on the conference stage: he's appeared there several times in the past, perhaps most memorably in a 2007 joint session with former Microsoft CEO and legendary frenemy Bill Gates (pictured). The two titans dished with hosts Swisher and Wall Street Journal columnist Walt Mossberg on the Mac vs. PC ads, the future of computing, and even took a rare introspective look back at their shared history.
Swisher says this year's conversation with the Apple CEO could cover the iPad, Apple's increasingly complicated relationship with Google, and future innovations from the company. Jobs doesn't make a lot of public appearances that aren't on his home turf, so it's always interesting to hear from him in a setting like this.
If you're dying to see Jobs speak in person, along with a roster of other movers, shakers, and influential people in business, entertainment, and technology, I'm afraid you're out of luck: the conference has been sold out since January. But don't fret: video highlights will be posted after the sessions, so you'll still have a chance to hang on Jobs's every word.