Solid Documents, makers of PDF and document tools for Windows, has released one of its most popular products for the Mac: Solid PDF to Word.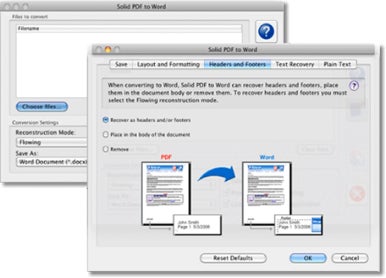 Solid PDF to Word for Mac is a document conversion tool, able to transmogrify PDF documents into Microsoft Word and Excel formats. Contrary to its name, it can also convert PDFs to Apple's Pages format, rich text (RTF), and even HTML. Text, images, tables, headers, footers, and page layouts are all preserved in the conversion, and editable form fields are converted to text boxes (when converting to compatible formats) for easy interaction.
Batch conversion is also on the bullet list, making Solid PDF to Word for Mac a great option for the workplace.
Solid PDF to Word for Mac requires an Intel Mac running OS X 10.5 Leopard or later. A trial is available, as are a number of multi-user site license packages. A single-user license is $80, while 2-4 licenses are $75 each, 5-9 licenses are $70 each, and so on.
Solid PDF to Word for Mac