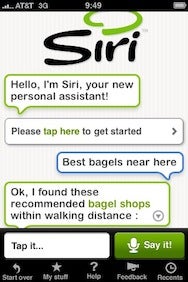 Apple may be on the verge of acquiring Siri, the company behind the eponymous iPhone app that serves as a voice-driven personal assistant, according to a report at Wired. A Siri representative told the publication that the acquisition was imminent, but the transaction hadn't been completed yet.
Reports on Mashable and Business Insider, meanwhile, say that the Siri acquisition is a done deal, citing Federal Trade Commission paperwork (PDF) seeking approval for the transaction. Other terms of the deal, such as the price Apple paid for the acquisition and whether all of Siri's employees will be absorbed by Cupertino, are currently unknown. Apple failed to return a request for comment.
Siri Assistant is a free app for the iPhone that can get you movie showtimes, book you a cab, or reserve your spot at a restaurant, all through instructions spoken to it. Powered by Nuance's speech recognition engine, Siri figures out what you're asking for and gives you the results. The app works with several online services such as Yahoo Local, Yelp, OpenTable, MovieTickets, and more. It currently only works within the U.S.
The app also has some sort of artificial intelligence built in and can, over a period of time, learn what your preferences are and tailor its results to best suit them.
An acquisition of Siri would add another weapon to Apple's arsenal in its constantly escalating rivalry with former ally Google. Siri's search features already compete with several of Google's search-related services, such as its Google Mobile App, which also allows voice searches. Likewise, Google also builds full voice capabilities into the latest versions of its Android mobile operating system.
Apple may also be interested in using Siri's technology to improve the existing Voice Control feature on the iPhone 3GS.