At a Glance
Expert's Rating
Pros
Recording feature
Straightforward interface
Lots of command and trigger options
Cons
Can't create macros with decision points
Lacks QuicKeys' Web interactions
Our Verdict
Keyboard Maestro, while not as powerful as QuicKeys, is an easy-to-use, capable, and affordable macro utility.
Price When Reviewed
$36 (free trial available)
Best Prices Today: Keyboard Maestro
Stairways Software's $36 Keyboard Maestro is a Macintosh macro utility for automating tiresome tasks on your computer. It lacks some of the advanced features found in Startly Technologies' $60 QuicKeys 4, but it costs less and is easier to configure.
Like other macro tools, Keyboard Maestro presents the steps for creating macros in three stages: groups (collections of macros that are available to all applications or just the applications you choose), macros (the actions that make up a task), and triggers (the condition—such as a key press, timed event, or script—that initiates a macro). Keyboard Maestro presents these elements in a columned window.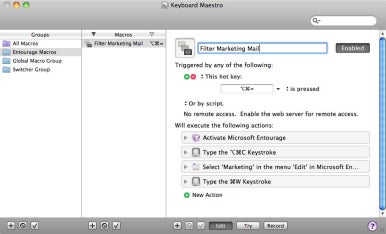 In the default layout, you select or create a group of macros within the first column, choose one of those macros within the second column, and create triggers in the third column. If you want to create a new action, you click the New Action button in the third column: The first column then changes to contain categories of actions (Process Control, Interface Control, iTunes Control, Text, and Clipboard, among others); select a category and the second column displays the actions contained within that category.
When you click the Edit button in the third column—which is the first step in creating a new macro of your own—a Record button appears at the bottom of the window. Click this button and you can record your Mac's action. This is a useful feature for recording a complex series of actions, but it records everything you do—including errant clicks. It provides a good starting point, but you'll likely have to edit your work—substituting menu commands for clicks, for example. You'll also find a Try button next to the Record button. Click it and the macro you've recorded runs.
Like QuicKeys, Keyboard Maestro includes a text expansion feature similar to SmileOnMyMac's TextExpander ( ) and Ettore Software's TypeIt4Me ( ). This feature lets you type an abbreviation to insert a chunk of boilerplate text. Keyboard Maestro also lets you trigger macros from a floating palette or a menu. And you can download a free Maestro iPhone app that lets you trigger macros on your Mac from your iPhone, iPod touch, or iPad. You can execute AppleScripts, Automator workflows, other macros, and shell scripts.
Keyboard Maestro also provides an action that plops a Google search field in the middle of your Mac's display. Enter your search term, press Return, and your browser launches and displays the results of your search. You can also use actions that display a message using Growl. There's even an action for applying a BBEdit Text Factory to your files.
However, the program lacks some of the power of QuicKeys. For example, Keyboard Maestro doesn't provide a way to add a decision to a macro—if A happens, do B; if C happens, do D. QuicKeys does, and QuicKeys includes Web actions—a way to identify and interact with elements you find on Web pages. If you routinely work with the same Web forms and want to automate the process, QuicKeys provides a solution that Keyboard Maestro doesn't. But with QuicKeys' power comes complexity. Keyboard Maestro is a less complicated tool that provides the bulk of QuicKeys' features.
Keyboard Maestro is a fine macro utility offered at a reasonable price. If you don't need the extra power offered by QuicKeys—specifically, decision actions and Web actions—and seek an easier-to-use tool, Keyboard Maestro is a solid option.
Best Prices Today: Keyboard Maestro