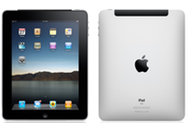 For those of you who have been too caught up watching the tracking data for your new 3G iPad as it inches ever closer to your doorstep, delight in a new bit of additional information, this time from AT&T. On Wednesday, the exclusive 3G networking service provider posted an iPad 3G fact sheet (in PDF form) detailing how the service would work.
Here's a refresher on the basics we already knew from Apple's January iPad unveiling and the iPad Website itself: You can use the Wi-Fi built into the device at no charge, but to activate the 3G signal, it'll cost you $15 per month for 250MB of data, or $30 per month for unlimited use. Users can purchase and upgrade (if need be) within the iPad itself, and the device will flash alerts (at 20 percent, 10 percent, and expired) to let you know when you're running out of data on the 250MB plan. 3G iPad plans are (blessedly) contract-free, so you can cancel at any time. And you'll have access to any one of AT&T's 20,000-plus Wi-Fi Hot Spots while on the road ( which they hope you'll put to good use).
The AT&T PDF fleshes out this information, and finally settles the "just what do you mean by 'month' anyway?" debate. According to the carrier, "one month is based on thirty consecutive days, and starts at the date and time of your purchase." The plan you've selected will automatically renew at the end of that period, providing you don't cancel.
If you make changes to your plan—convert from $15-per-month to $30-per-month, for example—you'll start from the beginning in a new 30-day window. Unfortunately, that means that if you want to upgrade, you'll have to pay the full $30—it doesn't look like there's any support for pro-rated plans.
AT&T also reminds all customers to periodically check their data levels in Settings -> Cellular Data so they can get a ballpark figure of how much they're using. If you hit your data cap on the lower plan, service will automatically disconnect, so you don't have to worry about overage fees—just sign up for a new plan or wait until day 30, when your service automatically renews.
Apple iPad Tablet Computer
Apple iPad Tablet Computer