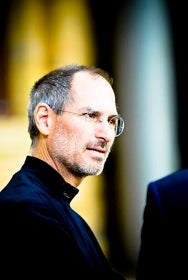 So far this year he's championed organ donation, launched the iPad, and taken Flash to task—and now, Steve Jobs has once again made Time 100's list of most influential people.
This isn't Jobs's first appearance—the Apple CEO has been mentioned repeatedly on the list throughout the past decade, in 2004, 2005, 2007, and 2008. As of 2010, Jobs has been listed five times—tied with Hillary Rodham Clinton and Barack Obama—and is only three behind Oprah Winfrey, who's been on the list a whopping eight times.
Categorized under "Thinkers," Jobs is written about reverently by sculpture artist Jeff Koons:
"As a young man, Steve Jobs, Apple's CEO, decided to be the Beatles of computing. I once said that I make what the Beatles would have made if they made sculpture, and I can appreciate how Steve, 55, applies their ethos of optimism to his work… It's great to see Steve stay true to his vision."
Jobs is featured in Time this month alongside politicians, doctors, bankers, figure skaters, and artists. Check out the full list online.