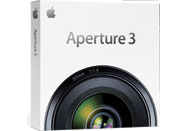 Apple has released another update to its photo-management software, Aperture 3. Version 3.0.3 claims to improve the overall stability of the program and also addresses a specific list of smaller issues.
Areas mentioned in Apple's release notes include improvements for working with Faces, tracking with GPS in Places, duplicating Smart Albums, and applying adjustments such as Chromatic Aberration. There are fixes for Raw Fine Tuning presets, switching target printers and papers, and searching keywords from Query HUD and Keyword Controls. The update also improves on the repair and rebuilding process for Aperture libraries, as well as how it reconnects with referenced files.
Since Aperture's shaky debut in February, Apple has released a number of updates to the application, both big and small. Versions 3.0.2, which came out March 25th, and 3.0.1, released February 24th, both addressed overall stability issues as well.
The 69.4MB Aperture 3.0.3 update is available now on Apple's site. For more details on the update see Apple's release notes.