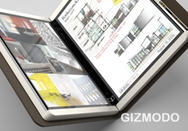 A prototype Microsoft tablet that raised eyebrows last year will reportedly not make it onto store shelves, according to gadget blog Gizmodo. Despite all the talk that a leaked demo video generated, Gizmodo now says that Microsoft has axed the project.
The intriguing tablet, dubbed "Courier," was introduced in September 2009 by a promotional video that leaked from Microsoft's Entertainment & Devices division (the same one responsible for the Xbox 360 and Zune). It was pitched as a journal-like device, something that you would carry with you throughout the day to jot down notes, save images; almost a 21st century, literal re-imagining of the "personal digital assistant" ideal. It had a two-tone interface of touch and stylus actions, and ran software that looked absolutely nothing like Windows—arguably the best idea Microsoft had with the device.
Microsoft never officially confirmed existence of the device, but if you were holding your breath for its delivery, you can resume your regularly scheduled respirations. Gizmodo's Thursday report of Courier's demise quotes Microsoft corporate vice president of communications Frank Shaw:
At any given time, we're looking at new ideas, investigating, testing, incubating them. It's in our DNA to develop new form factors and natural user interfaces to foster productivity and creativity. The Courier project is an example of this type of effort. It will be evaluated for use in future offerings, but we have no plans to build such a device at this time.
Maybe Courier was never anything more than an internal concept video that was never intended to see the light of day. But just from that initial video, fans and pundits seemed genuinely excited, or at least interested, in the Courier, perhaps because of its radical departure from Microsoft's "just put Windows on it" tablet strategy that has so far failed since "tablet PCs" became the stuff of myths and punchlines.
In fact, Courier seemed to be the first Microsoft gadget that people spoke about positively since the Zune's unfortunate stumble from what momentum it had. It was far along enough for Microsoft to put some decent money into a promotional video, and at least "on paper," Courier looked like it had potential. It's too bad that Shaw didn't actually answer why the product was shelved.