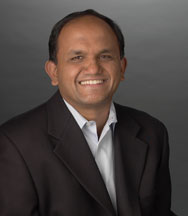 The same day that Steve Jobs spelled out Apple's opposition to Flash on its mobile devices, Adobe's CEO responded, calling the problems cited by Apple a "smokescreen."
In an interview with the Wall Street Journal, Adobe CEO Shantanu Narayen contends that Apple's decision to bar developers from using Flash to make mobile apps is restrictive move that hurts both software makers and end users.
"We have different views of the world," Narayen says in a video clip accompanying the story posted on the Wall Street Journal's Website. "Our view of the world is multiplatform, and we'll stick by it."
Apple and Adobe have been at loggerheads over Flash since the iPhone first arrived nearly three years ago without support for Adobe's multimedia technology. That meant, for example, that Flash-based Web content wouldn't appear in the iPhone's mobile Safari browser. Since the 2007 launch of the iPhone, Adobe repeatedly stressed in public that it was committed to adapting Flash for the iPhone; Apple seemed decidedly more lukewarm about the idea, with Jobs at one point suggesting that Flash in its current form wasn't good enough for Apple's mobile devices.
The Flash spat became decided more pointed—and public—in recent weeks, as Apple changed its iPhone developer terms to require that apps be written in Apple-approved programming languages—none of which include Flash. That didn't sit well with Adobe, which had been touting the ability of the newly announced Flash CS5 to write programs in Flash that could then be built for use on the iPhone OS.
Things came to a head Thursday when Jobs published his "Thoughts on Flash" missive, which outlines "why we do not allow Flash on iPhones, iPods, and iPads." Jobs called Flash a "closed system" that's vulnerable to exploits and crashes and consumes battery life at an unacceptable rate. Jobs also emphasized that apps built with cross-platform development tools fail to take advantage of the iPhone OS's features.
Those criticisms don't sit well with Narayen, who used the Journal interview to reiterate a position Adobe has argued before: software makers want to use one set of tools to create apps that they can deploy across multiple platforms. Restricting development to particular tools places the burden of multiple workflows on software makers.
"The fact that people have built applications using our technology, the fact that they've deployed it means that it benefits publishers and it benefits consumers," Narayen told the Journal. "It doesn't benefit Apple, and that's why you see this reaction."
The Journal hasn't yet posted the full video interview with Narayen but a live blog of the interview posted on the Journal contains some comments sure to raise the eyebrows of Mac and iPhone users. In regard to Apple's assertion that Flash is prone to crashes on the Mac, Narayen places the fault on something "to do with the Mac operating system." He also blasted complaints about Flash's effect on battery life as "patently false," adding that "for every one of these accusations made, there is proprietary lock-in" preventing Adobe from addressing any issues.
While praising the iPad as "a good first-generation device," Narayen predicted "tremendous innovation" coming from a variety of tablets. Adobe is involved with "dozens" of tablet projects, according to the Journal's blog of Narayen's comments.
it's hard to see where the Flash debate goes from here. Jobs's letter effectively closes the door from Apple's perspective. And Adobe has already said it won't invest in the Flash-to-iPhone development features in future versions of Flash. It appears that Thursday's war of words is nothing more than the two companies making their case as to who's to blame for the standoff, which each pointing a finger in the other's direction.