At a Glance
Expert's Rating
Pros
Slick new Eye-Fi Center software
Speedier WiFi capability (802.11n)
Cons
Triple the cost of high performance 8GB SD cards
Slower transfer times than a USB card reader
Our Verdict
The 8GB Pro X2 is the latest generation of wireless SD card from Eye-Fi. It can stream your photos to your Mac, upload them to your favorite social networking site, and even geotag the pictures along the way, all while the card is still in your camera. For these new cards, Wi-Fi capability has been beefed up to a speedier 802.11n, and Eye-Fi has introduced new companion software, Eye-Fi Center, to manage all card functions. In many ways, the new software is the biggest improvement here.
Burst Mode Speed and Uploading to Mac
I tested the Pro X2 in a Canon Rebel T1i shooting in Raw+JPEG mode. The Pro X2 is compatible with the formats most photographers use: JPEG, raw, and movie files. Compared to a SanDisk Extreme III 8GB memory card, transfer speed from the camera to the Pro X2 card was slower. In a 10 second burst, the SanDisk recorded 10 frames compared to 6 frames on the X2. But unlike the SanDisk memory, the Eye-Fi card immediately began streaming the images to the Pictures folder on my Mac. On average, it took the Pro X2 16 seconds to transfer each 18MB raw file, and 6 seconds to send a 3.5MB JPEG. This is slower than file transfer via a USB card reader, but also more convenient.
The home screen of the new Eye-Fi Center software.

Transfer Mode Options
To upload an image directly to my Flickr account (or Facebook or other social networking site), I applied the "Protect" key to the picture while viewing it on the camera's LCD screen. Any image with that designation is published online as well as transferred to your Mac. This configuration is controlled by choosing the Selective Share option in the Eye-Fi Center software, which has three transfer mode choices:
Automatic (all photos uploaded to computer and designated sharing site)
Selective Share (all photos transferred to computer, but only selected images go online)
Selective Transfer (only selected photos go to computer and online)
These new options make the Eye-Fi card infinitely more practical than in the old days, where everything you shot was automatically transferred.
Endless Memory
Once the images have been moved to your computer, you don't even have to erase them off the card. If you enable a new feature called Endless Memory, the Pro X2 card automatically frees up space after transfer by deleting files, allowing you to concentrate on shooting instead of fiddling with in-camera memory.
Geotagging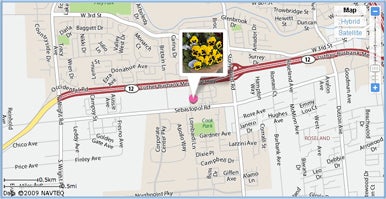 I've always considered the geotagging one of the most important features on Eye-Fi cards. As with previous models, the card looks for registered networks and uses that information to apply location data to your images. It works great when you're in urban environments, and not at all when you're on top of an isolated mountain. The Pro X2 only failed once to geotag in urban environments during testing. It did, however, miss-tag a couple of images by applying the location information from a previous shoot from 30 minutes earlier. So be sure to check this data if tagging is important to you. Geotagging is enabled in the Eye-Fi Center software.
Macworld Buying Advice
The Eye-Fi Pro X2 is best suited for casual photographers who prefer convenience over speed, highlighted by wireless file transfer, automated card maintenance, and urban geotagging. The new Eye-Fi Center software provides many configuration options and sports an improved interface. The price tag for this convenience, however, is $149, more than triple the cost of high performance 8GB SD cards without Wi-Fi.