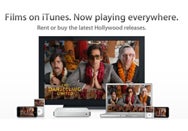 It may be iPad 3G day in the States, but it looks like two countries overseas are getting an Apple surprise of their own: movies on the iTunes Store.
The Cupertino company announced on Friday that both France and Ireland would be receiving the ability to rent and buy movies from the major film studios, including 20th Century Fox, MGM, Paramount, Sony Pictures, Universal Studios, Disney, and Warner Brothers Entertainment.
In addition, each country will get access to films from European studios. In Ireland, E1 Entertainment, Lionsgate UK, and Optimum Releasing will be available, while French customers will receive access to the Pathé, SND, and StudioCanal catalogue.
Pricing for both countries is the same; rentals are €3 for older films and €4 for new releases, and an HD version of the film (if applicable) is available for €1 more. Purchasing films starts at €8 for older films, €10 for recent releases, and €14 for new releases. You'll need iTunes 9.1 to take advantage of the store, however, so make sure you download the latest update first.
Interesting to note that users of the France and Ireland store have 30 days to start watching rentals, and 48 hours to finish (instead of the 24-hour window in the U.S.). This seems to be an outside-of-the-U.S. phenomenon, as the German, New Zealand, Australian, Canadian, and U.K. stores all carry the same expanded viewing window.
There have been a number of issues for Apple in the past when trying to secure international licensing rights—but with France and Ireland becoming the seventh and eighth countries respectively to gain this feature, there's hope that Apple is finally starting to pick up steam on its 2008 promise to bring digital movies to an international audience.
Besides—20th Century Fox hardly wants to miss out on all that international Avatar revenue.