USB-C is the modern connection standard shared by most new devices today. It comes in several different formats but they all have the same reversible connector at the end. By the end of 2023, most of Apple's devices will use USB-C for charging and data transfers.
Lightning was also reversible—where it doesn't matter which side of the connector faces up or down as you plug it in—so no big change there, but USB-C is much more than just a symmetrical design.
It can transfer data faster—pushing Lightning's 0.48Gbps to up to 40Gbps (USB4 and Thunderbolt use the same Type-C connector), and next year to 120Gbps.
Apple's iPhone 15 has a USB-C port, replacing the old trusty but proprietary Lightning cable that has been a part of iPhones and older iPads since 2012. Apple supplies a USB-C charging cable in the box, but if you want a single cable for fast charging and data transfers—or just a spare charging cable—we've rounded up some of our favorites to help you get the best one.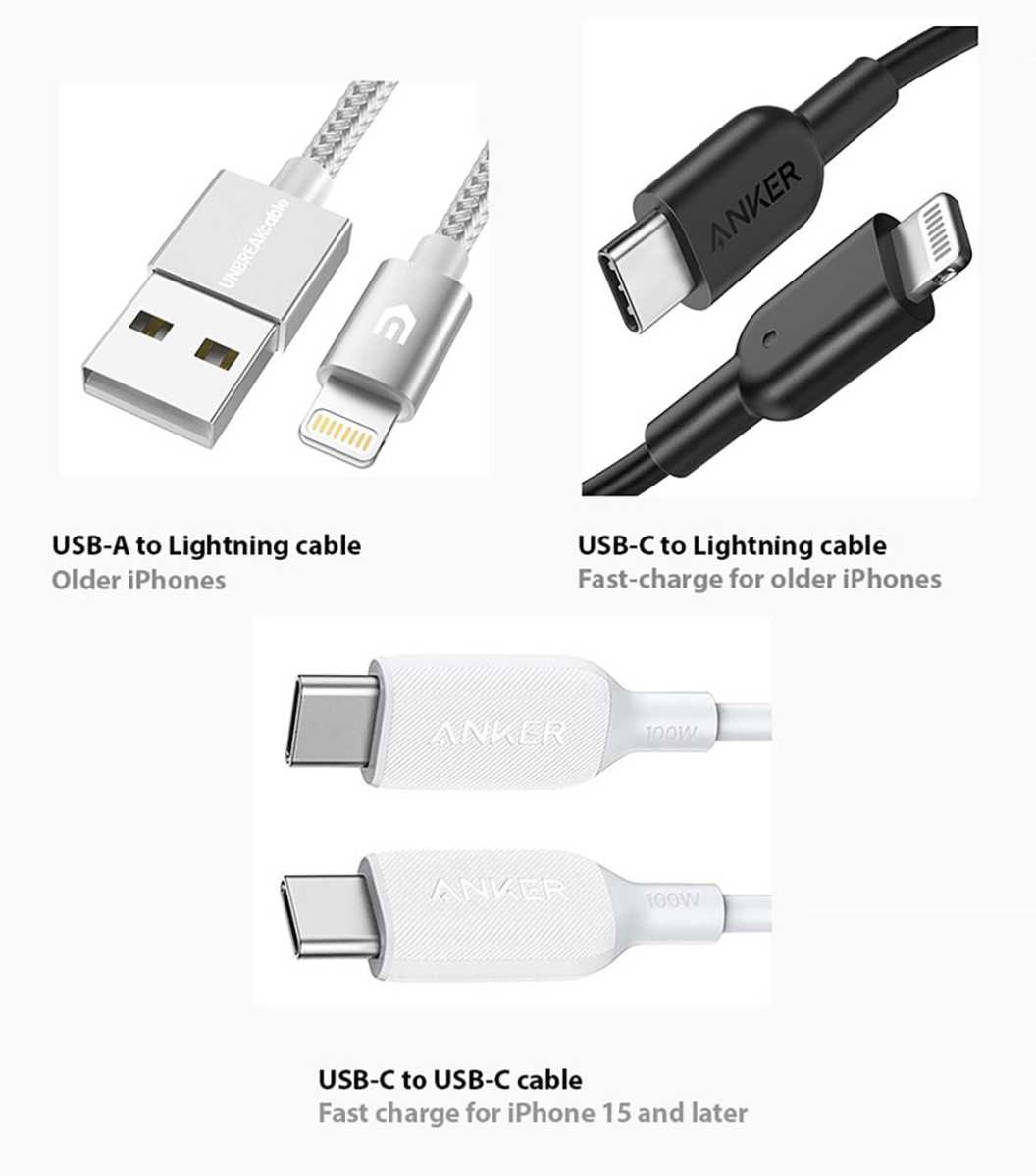 Foundry
Note that the cables reviewed here are USB-C to USB-C (or backward-compatible Thunderbolt to Thunderbolt). Old iPhone chargers had the rectangular non-reversible USB-A connector to connect to the charger and a Lightning connector that went into the iPhone.
Foundry
Using a USB-C charger will enable fast charging even for iPhones with a Lightning port. You can still charge an Apple device with a USB-A charger but not at the fastest speed. From the iPhone 15 onwards it's USB-C into the charger and USB-C into the iPhone. See our roundup of the best USB-C chargers for iPhone.
We have even more tips that show you the fastest ways to charge an iPhone.
Know your cables
Not all USB-C cables offer the same capabilities, so we explain each factor you need to consider. Fear not, for basic iPhone charging most USB-C cables will be fine. But some are finer than others. Macs use Thunderbolt cables that have the same Type-C connector as USB-C so look the same but have faster data transfer and charging speed options. You can use a Thunderbolt cable to charge USB-C devices, too.
Apple ships a USB-C Charge Cable with the newest iPhones but Mac users need to buy a Thunderbolt cable to connect to a docking station or fast storage device. Having a spare cable or two hanging around the house or office is always advisable—and there are better, cheaper, and more colorful USB-C and Thunderbolt cables than just those sold by Apple.
We've focused on USB-C charging cables as most people need them just to attach to a USB-C charger, but cables offer both charging and data transfers, although at different capabilities, depending on your requirements.
Charging: All USB-C cables can carry a minimum of 60W (3A x 20V). Some support 100W (5A x 20V) charging, and some new Thunderbolt 4 cables can charge at up to 240W. 60W is more than you need for a phone and is perfect for the MacBook Air and 13-inch MacBook Pro. Go for at least a 100W cable for the 14-inch MacBook Pro. While 100W is fine for a 16-inch MacBook Pro, that model can be charged at up to 140W, although Apple restricts fast-charging for that model to its own $49/£49 USB-C to MagSafe 3 Cable, which is included with the 16-inch MacBook Pro.
Apple says that the iPhone 15 can be fast-charged from zero to 50% in 30 minutes using at least a 20W USB-C power adapter, which is the same speed the iPhone 14 got via Lightning. SO, we don't expect that the new iPhone 15 family will charge any faster than earlier models.
Length: A long cable can be messy when your device is close to the charger, but a short one could leave your iPhone dangling out of reach. You may need different lengths of USB-C cable for each of your charging spaces. When it comes to transferring data, choose a cable that's as short as you need as the longer the cable, the greater the risk of signal degradation—invest in a Thunderbolt 4 cable for 2m data-strength confidence.
Data transfer speed: iPhones with Lightning ports are limited to a slow USB 2.0 data transfer rate of just 480Mbps. Compare that to your Mac, whose Thunderbolt connection can reach 40Gbps—over 8,000% faster! Data transfer speed doesn't matter if all you are doing is charging a device but it is vital when connecting your Apple device to storage drives, docking stations, or monitors.
While the entry-level iPad is also limited to 480Mbps, the iPad Pro, like a MacBook, supports Thunderbolt's 40Gbps maximum. The iPhone 15 and 15 Plus features USB-C that is limited to 480Mbps like with Lightning, but the iPhone 15 Pro and Pro Max's USB-C can sync at 10Gbps—useful for backing up video or photos to a computer.
Note that the USB-C cable Apple supplies with the iPhone 15 family is a "Charge" cable and limited to 480Mbps for syncing. If you use the Pro or Pro Max model with a cable for data transfer, you'll do better with a 10Gbps or higher bandwidth cable.
Best USB-C cables for iPhone
iPhones have included a USB-C to Lightning cable for years, and elsewhere we have rounded up the best Lightning cables we've seen for iPhones older than the iPhone 15.
From the iPhone 15 onwards and also with the AirPods Pro 2, you'll need a cable with USB-C on both ends to charge an iPhone unless you charge wirelessly—check out the best MagSafe wireless iPhone chargers. Apple supplies a USB-C-to-USB-C cable with all new iPhones, which can be used to change any Apple device that has a USB-C port, including AirPods and Mac accessories, once they are updated.
Apple has released a Lightning–to–USB-C adapter—confusingly named the Apple USB-C to Lightning Adapter—so you can convert an old Lightning cable into a USB-C cable for your new iPhone 15, but, as you might expect from Apple, it's way more expensive than just buying one of the new and superior USB-C cables we've reviewed below.
We've rounded up our favorite USB-C cables. You can find cheaper online but we are recommending cables from trusted brands, such as Anker and Cable Matters. When charging your precious devices, you want to be sure that you aren't putting them at risk of overheating and potentially causing a fire in your home.
Best USB-C cables for iPad
Most iPads on sale today feature a USB-C connector—only the entry-level 9th Generation iPad still uses Lightning. But even the 10th Gen iPad's USB-C is still limited to a 480Mbps data speed.
The iPad mini has a USB-C port that supports 5Gbps; the iPad Air 10Gbps; and the iPad Pro has a USB4/Thunderbolt port that can zip data along at 40Gbps. Check your iPad's data transfer rate before choosing a new cable.
For charging only, any of the iPhone USB-C cables reviewed above will be fine as 20W should be enough to charge an iPad—the Anker 310 twin pack, reviewed above, would supply great USB-C charging cables for two devices.
But if you are connecting to other devices or syncing via cable, we recommend cables that support faster data transfers. A 10Gbps USB-C cable, such as the Cable Matter cord below, is an excellent option if you don't want to spend a bundle on Thunderbolt.
1. Anker 310 USB-C to USB-C Cable – Best budget USB-C charging cable for iPad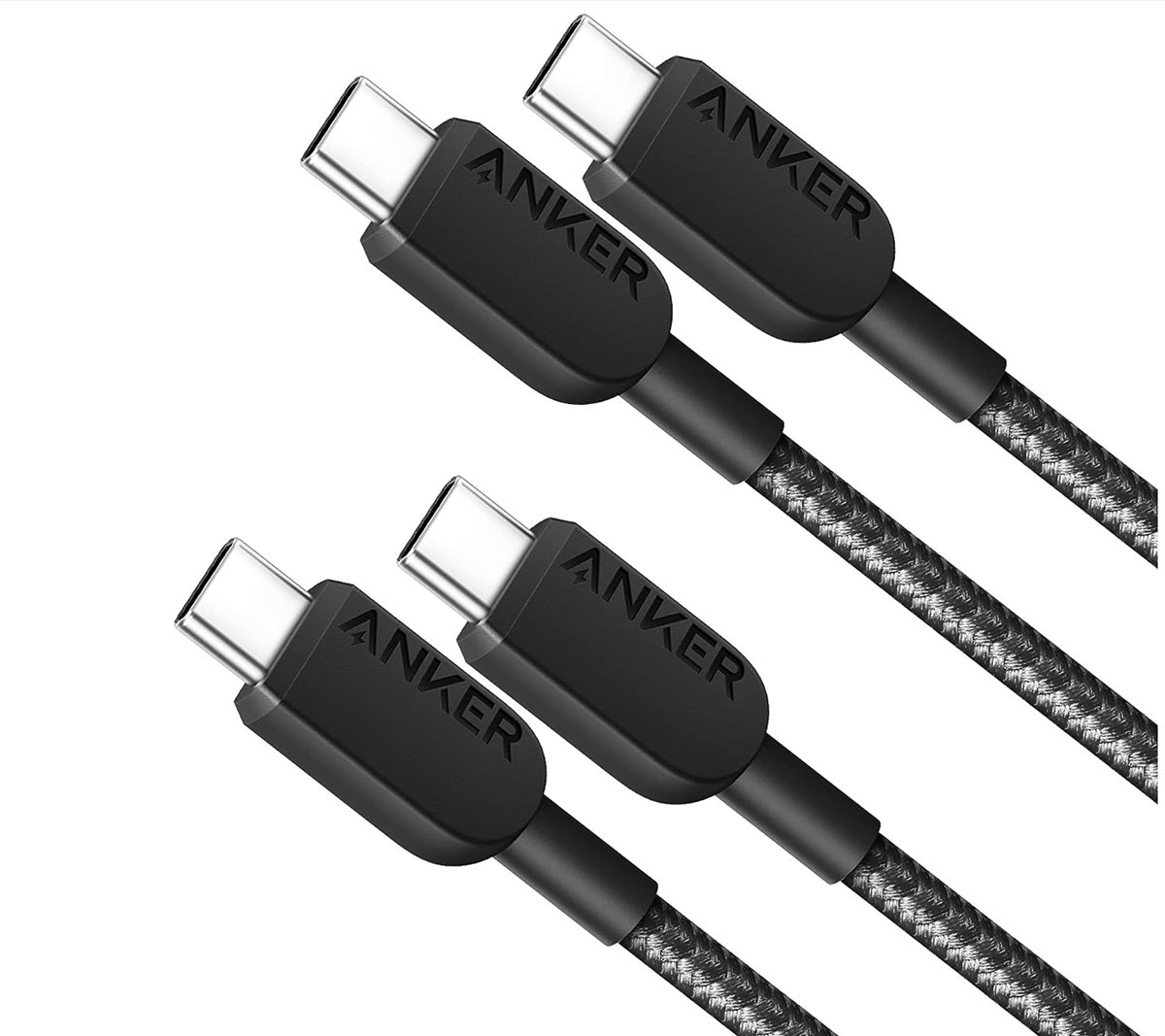 Pros
60W Power Delivery
Twin pack
Robust braided design
Length options
Cons
Not suitable for monitor connection
Only in black
Price When Reviewed:
$9.99
Charging: 60W
Data transfer speed: 480Mbps
Monitor support: No
Cable length: 3ft (0.9m) or 6ft (1.8m)
Colors: Black
Our favorite USB-C charging cable for iPhones is also our recommended budget charging option for USB-C iPads. It's such a flexible solution that it is also our budget USB-C cable choice for smaller MacBooks; see below.
Forget about it for data transfer or connecting a USB-C monitor, but for charging this affordable, durable cable is a great choice.
2. Cable Matters 10Gbps USB-C to USB-C Cable – Best budget USB-C cable for iPad
Pros
100W Power Delivery
4K monitor support
10Gbps data transfer
Available in Black and White
Price When Reviewed:
$20.99
Charging: 100W
Data transfer speed: 10Gbps
Monitor support: 4K
Cable length: 3.3ft (1m)
Colors: Black or White
If you want to sync your iPad or connect it to a storage device, dock, or monitor, as well as fast-charging the tablet, you'll need a superior data transfer rate.
The 10Gbps bandwidth gained with this premium USB-C cable should be plenty for most users, and the option of a white version is rare in such USB-C cables.
3. Anker 515 USB-C to USB-C Cable (USB4)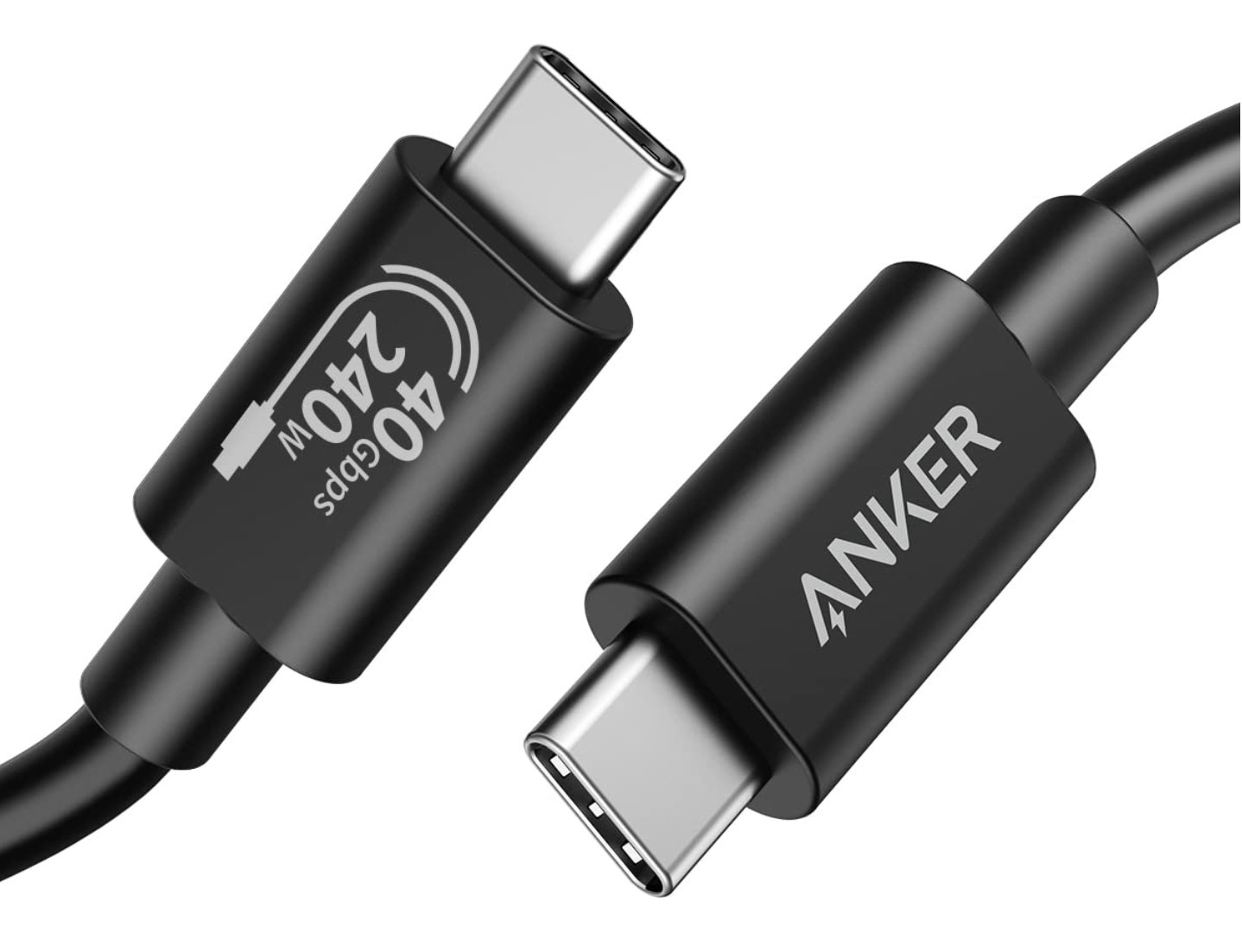 Pros
240W Power Delivery
40Gbps data transfer
6K monitor support for iPad Pro
Price When Reviewed:
$34.99
Charging: 240W
Data transfer speed: 40Gbps
Monitor support: 6K
Cable length: 3.3ft (1m)
Colors: Black
For ultimate iPad Pro data transfer bandwidth, choose a Thunderbolt 4 or USB4 cable.
This Anker 515 USB4 cable is overpowered from a charging point of view but therefore offers some Apple tablet future-proofing. Remember, you won't harm your iPad using a premium higher-wattage cable.
Where it wins is its 40Gbps data bandwidth, the maximum you'll get from any USB-C cable, and capable of connecting an iPad Pro to a 6K USB-C display at 60Hz. Via a Mac, it could support an 8K display.
Best USB-C cables for Mac
Only the original 12-inch MacBook used standard USB-C. Macs since the 2016 MacBook Pro have used much faster Thunderbolt 3 or, from 2021 Thunderbolt 4 ports. Plain M1/M2 Macs (not Pro or Max) are listed as Thunderbolt/USB4 but can be regarded as the same as Thunderbolt 4 except for their one-screen limitation.
If you are buying today, we recommend you go for a Thunderbolt 4 cable, which is the most capable standard and fully backward compatible with Thunderbolt 3 and USB-C. But they're pricey, and if speedy data transfer is not a priority or you require the cable for charging only, a slower USB-C cable will suffice for fast charging.
MacBooks require cables and chargers that support the USB Power Delivery (PD) standard. PD 3.0 supports up to 100W. PD 3.1 goes up to 240W.
Check the maximum charging wattage supported by the cable. Smaller MacBooks require at least 45W, mid-sized 60W, and larger 100W. The 16-inch MacBook Pro can be fast-charged at 140W, but Apple has limited this feature to its own $49/£49 USB-C to MagSafe 3 Cable so USB-C and even 240W Thunderbolt cables are knee-capped at 100W.
FAQ
---
1.
Which USB-C cable do I need to connect to a USB-C monitor
DisplayPort Alternate Mode is a feature available to USB-C that handles video as if the USB-C cable was a DisplayPort cable. USB-C monitors can therefore connect directly to your laptop or via a USB-C hub or USB-C or Thunderbolt dock.
However, not every USB-C cable supports video transfer so you need to choose the right type of cable.
If your external display supports a direct USB-C connection, look for a cable that has at least a data-transfer rate of 5Gbps for 4K at 60Hz or 10Gbps for 6K. For 8K we recommend you use a 40Gbps Thunderbolt 4 or USB4 cable. The higher the bandwidth, the less risk of signal degradation.
Consider cable length, too. While compression technologies should kick in, the longer your cable, the more the signal can degrade so opt for as short a cable as you require when connecting from your MacBook or dock to a USB-C monitor. A fully featured C-to-C cable that is 1 meter or shorter will work just fine for 95% of what people need. The Cable Matters 10Gbps/100W 1m USB-C Cable is a recommended solution.
If you need a longer cable, a 2m Thunderbolt 4 cable, such as the Cable Matters 2m Thunderbolt 4 cable.
Some USB-C monitors can provide between 65W to 90W of power back to the laptop, so ensure your USB-C cable supports at least 100W if you want to use your USB-C monitor to power your laptop.