TextNow, a $1 app from Enflick, aims to let you send and receive text messages without needing an SMS plan. Like its numerous competitors, TextNow bypasses the built-in Messages app on the iPhone, enabling iPhone, iPod touch, and iPad users alike to send and receive text messages. TextNow performs this trick by converting your friends' phone numbers into e-mail addresses; you use a custom "textnow.me" address within the app to exchange messages with your friends in a familiar, iChat-esque interface.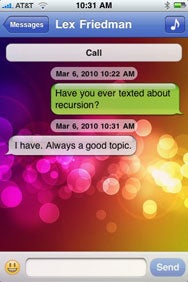 But let's be clear about one thing from the get-go: The $1 price tag and the "Unlimited Free Texting" name are both a bit deceptive: TextNow initially grants you three months of unlimited texting, and you can purchase a year's worth of unlimited messaging for $4, or a lifetime subscription for $8. Those prices are obviously considerably cheaper than any mobile carrier's texting rates, but they ain't free.
TextNow's user interface is a worthy competitor to the Messages app. The app looks good, and is highly customizable: You can change the color scheme, set background images, tweak the alert sounds, use landscape mode, access your address book (including contact photos), and even connect the app with Facebook to download images for friends you don't yet have photos for. And since TextNow supports push, you'll get notified whenever you receive a new text. (iPod touch and Wi-Fi-only iPad owners, of course, can only send or receive messages when they have a Wi-Fi connection.)
You'll find in-app purchases all over TextNow. Beyond the messaging subscriptions, you can also select from a huge amount of extra background imagery, and oodles of different alert tones.
Remember how long it took for MMS to come to the iPhone? It still hasn't made its way to TextNow, so if you're looking to send photos and videos to your friends, the app isn't for you.
Unfortunately, though, there's one bit of worse news: Early in my testing, the messages I sent simply didn't go through. I could receive texts, but not a single message that I sent to AT&T, T-Mobile, or Sprint customers went through. Obviously, this issue is of paramount importance for TextNow. It took e-mails to the app's developer—who responded quickly—to get texts to those numbers working for me, and it was a problem he seemed familiar with. It's possible I got very unlucky, and the developer did fix my problem. But I would definitely recommend starting with the free TextNow Lite to confirm it will work with your contacts. The free version limits you to 30 outgoing messages per day, and includes ads. If you're a light texter, this version of the app should suit you fine.
[Lex Friedman shares more punditry and insights at his blog.]