Heavy Gunner 3D for iPad by Com2uS puts you at the controls of a massive space weapon charged with protecting the fleet from an alien race of machines.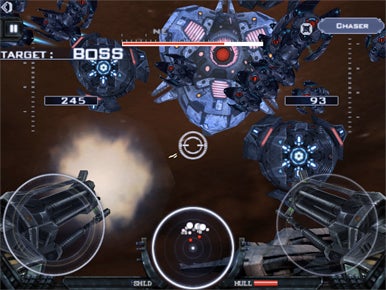 While there is a rich and rather unnecessarily complex back story to Heavy Gunner 3D, your mission is quite simple — blow stuff up. The attacking machines come in different shapes and sizes and arrive in increasingly larger numbers and many different varieties. In the campaign mode, you face wave after wave of attackers and earn money for your success after each level so you can buy bigger and varied weapons to face more waves of bad guys. Control of your guns is accomplished by tilting the iPad while using your thumbs to aim and fire your tandem guns. Reloads happen automatically and sometimes not fast enough as the relentless invaders try to knock down your shield and your ship's hull.
The action is extremely intense and the control scheme on the iPad is well executed. The large number of enemies coupled with the equal number of explosions you'll create provide a sight and sound for the senses. However, before too long, the repetition starts to wear on you. Purchasing new weapons and upgrades mixes things up a bit, and the challenge of completing all of the campaign levels and earning all 50 achievements helps to keep players interested. There are also six challenge modes for you to tackle along with an online leader board to compare scores with others. But at the end of the day, Heavy Gunner is still a simple turret-based shoot-'em-up. The environments don't change and neither does the familiar formula.
Heavy Gunner 3D succeeds by delivering lots of intense action but falls short when it comes to providing enough variety to keep casual gamers interested. If blowing up wave after wave of endless robots is what you crave, Heavy Gunner 3D will not disappoint.
Heavy Gunner 3D is compatible with an iPad running iPhone OS 3.2 or later.
[James Savage is the host of the RetroMacCast a weekly podcast devoted to older Macintosh computers.]