Major League Baseball has been an innovator when it comes to both the Internet and the iPhone. With At Bat 2010 for iPad, the league has taken things to a whole new level. This $15 iPad app takes advantage of the iPad's expanded screen real estate to slather on almost as much data as you could ever want, and mix in multimedia features aplenty.
From the app's main screen, you can flick through a scoreboard that shows all the current day's games. If you tap on an active game, it'll bring up a Gameday view for that game—a virtual ballfield with the current batter (or at least a generic replica with the proper accent color on the proper side of the plate), as well as a linescore and current baserunners. As if that weren't enough, the Gameday view will show you what's going on pitch by pitch, and you can browse boxscores, lineups, and even view video highlights directly in the Gameday window.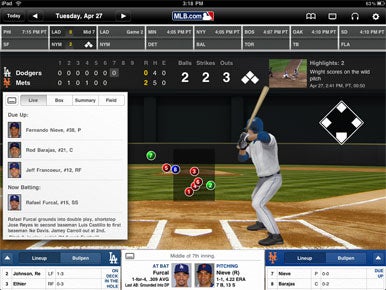 Tap on the audio icon and you can choose to listen to any game's radio broadcast, with either home or away announcers. The video icon lets you watch a featured "game of the day" live, and subscribers to MLB's premium video service can watch video of any out-of-market game. If you're the fan of a distant team, this combo can turn your iPad into a Wi-Fi TV with most of your favorite team's games on it. (Tip: Even subscribers to the $99 MLB.tv video package can choose home or away broadcasts within the iPad app, a feature not available on other platforms without the $120 MLB.tv Premium package.) A little while after the game is over, all users get access to Condensed Games—a roughly 30-minute package that shows every "action pitch" of every at-bat.
There's also an in-app newsreader that lets you read all the stories on MLB.com, including a "view by team" mode that lets you focus in on news about your favorite teams.
As strong as the app is, there are still a few features I wish it had. I like the Gameday view a lot because of its accessible scores and stats, but I found myself wishing I could watch live game video within that view, rather than just highlights. It's also too hard to see a brief summary of what's transpired in the current inning, especially since the Gameday action often jumps ahead so that you miss the hit or out for a particular batter. Yes, you can tap on Summary and scroll to see what happened, but it would be preferable if the default Live tab provided a basic summary. Similarly, identifying current baserunners by their photos is a cute idea, but maybe less helpful than writing their names. You can tap on the faces to reveal a baseball card for that player, which is also nice But while that card provides a stat line for the current game, it doesn't summarize each at-bat, nor does it explain how the player managed to get on base during the inning.
I'd also like to see more season stats (including ones a bit more relevant than batting average, invented in the 19th century) for the current batter and pitcher without having to tap on their faces in the current-status window. A total pitch count feature would save me the trouble of having to add up balls and strikes for the current pitcher.
I could go on. Which is my way of saying, At Bat is great on the iPad, but it's so good that it makes me want even more data. And more video. But in the meantime, if you're a baseball fan with an iPad, this product will delight you. And if you're a fan of an out-of-market team, this app plus the MLB.tv package is really a no-brainer.
[Editorial director Jason Snell root, root, roots for the home team, which in his case, is the San Francisco Giants.]