When my older brother got Tony Hawk Pro Skater 2 for his Playstation, we used to sit in front of the television and play it for hours on end—racking up points, cash, and performing awesome gravity-defying tricks. Then we'd go outside and try it on our own skateboards and, um, quickly learn what separated us from the pros. Well, for those of you who also have fond (and perhaps painful) memories of THPS2—it's now out for the iPhone, and it makes a sloppy (but not horrendous) landing on the new platform. Released by Activision for $9.99, THPS2 for the iPhone features good (but not perfect) controls, a new soundtrack, and all of the original skaters and environments.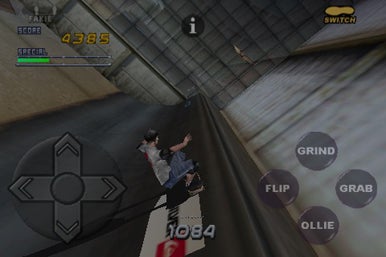 The most difficult trick for the iPhone version of THPS2 to pull off would be providing a game with intuitive controls. Unfortunately, it gets plenty of praise for trying, but doesn't quite stick the landind. You get an onscreen virtual d-pad and four buttons, labeled "Grind," "Grab," "Ollie," and "Flip." There's also an accelerometer option, which clears up the screen and puts two buttons on either side. But the steering is…erm, imprecise at best. Plus, it doesn't help that you have to tilt back and forth to speed up—let's just say that the accelerometer is a nice idea, but why fix what ain't broken?
The virtual d-pad and buttons, on the other hand, are pretty good as far as iPhone standards go. You won't be able to do as many moves as the console version—and rocking back and forth on the d-pad is not exactly easy—but overall the controls were fairly responsive. Anyone who's used to scoring ridiculous scores on the console game will have to modify their expectations a bit for the iPhone version, but with a little practice and dedication you'll still be able to hit "Sick" score levels.
THPS2 for the iPhone features all of the original 13 skaters and environments, as well as upgrade options. Career mode allows you to skate two-minute sessions for money (and gives you a variety of ways to earn said money, including collecting cash, letters, knocking down barrels, and, of course, performing sweet moves). There's also a single session mode and a free skate mode—no multiplayer option, though, which is a little disappointing.
Aside from the imperfect controls, I had no real complaints with THPS2 for the iPhone. There was a little lag in the menus—and my swipes didn't always register—but that didn't really detract from gameplay. I was a little disappointed that they didn't port over the "create your own" (skater or environment) from the console version, but the 13 skaters are more than enough. Also, you can only save at the end of each session (beware of interrupting callers), but since each session is only two minutes long, this is hardly a serious issue.
If you're a THPS2 fan, this is definitely a game worth checking out—it'll bring back great memories, it offers a new challenge (the challenge of touch controls!), and it'll bring you many, many hours of gameplay.
[Sarah Jacobsson routinely achieves sick scores.]