Prime time for skiing may be over for another season, but the iPhone remains a fantastic way to view trail maps from ski resorts. No more folding the little paper maps up; no more ripping them as they pull out of your pocket. With the iPhone's pinch-to-zoom ability, you can quickly focus in on the part of the map that you're looking at and plot your course in seconds.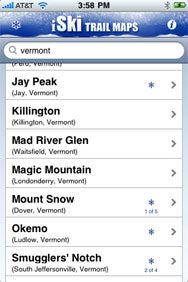 There's only one real problem, though: when you're high atop a mountain somewhere, there's a good chance you won't have an cell signal. iSki Trail Maps by Clearlogic Mobile addresses this issue by saving the maps locally to your phone, so you can access them quickly—even with no signal.
The iSki Train Maps interface is nicely designed and simple to use. When you launch the app, you're presented with a search box. You can enter a resort name, state, or country into the box, and the app quickly provides you a list of matches as you type. If you know that you want the map for Okemo Mountain, you can just enter the name, but if you'd rather browse all Vermont mountains, just starting to type "Vermont" pulls the list right up.
Once you have found the resort that you're looking for, tap on the name. That brings you to an information page. Here, you'll find the trail map (or maps, in the case of some of the larger resorts) and basic information such as phone numbers, addresses, and Website links. (A quick aside: tapping on any of the information options immediately quits the app and launches either the phone app, Maps, or Safari. I found myself quitting out of iSki Trail Maps multiple times by accident, and a "Do you really want to leave iSki Trail Maps and launch Safari?" warning would be a helpful addition.)
When you tap on the trail map box on the top of the page, the latest trail map is immediately saved locally to your phone. This means that the next time you open the app, even without a network connection, you can open the saved map. If the local storage on your phone ever gets too full, you can deleted the stored maps; however, I've saved ten maps with no problems.
While iSki Trail Maps does a good job of giving you quick offline access to trail maps, there are some other features that competitive apps offer—finding the nearest mountain to you via GPS, and condition reports, for example. I wish iSki Trail Maps would include these for a more well-rounded offering for iPhone-toting skiers.
[Macworld contributor Beau Colburn grew up skiing in New England and still tries to hit the slopes in Vermont a few times a year.]