Magnolia Lab's $4 app, Pocket's Pie, takes photos and records audio—features that are built into every iPhone. So, why would someone buy this app? The clue is in the app's name, which really has more to do with espionage than with your grandmother's round dessert. (Close your eyes and say the name while thinking of Tom Cruise suspended from a wire.)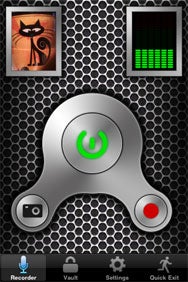 When you use the iPhone's built-in camera or Voice Memos app, anyone within eye-shot of your iPhone knows exactly what you're doing. But what if you need to operate in stealth mode? (I'll let your imagination fill in the details as to why.) For this, Pocket's Pie provides a "fake Web page" interface.
When you enable this option, the app's screen looks like a Web page in Safari and provides hidden camera/audio controls. So, someone casually looking over your shoulder would have to look carefully to see that you're taking photos or recording audio and not browsing the Web.
The app also provides a "quick exit" feature that quickly terminates the app and loads a Web page of your choice in Safari. Very sneaky…
Even if you're not the secret agent type, the app provides some features beyond those built into the iPhone. Pocket's Pie gives you the ability to shoot multiple photos in rapid sequence. An audio noise sensor and photo motion sensor lets you begin recording or snapping photos when a sound or motion triggers the app. A passcode lock on the "vault" that contains your photos and audio recordings keeps prying eyes away from what you've collected with Pocket's Pie.
Considering the clandestine nature of this app, it seems like an oversight to not include the ability to record video. Additionally, Pocket's Pie takes the secrecy thing a bit too far by not providing a method to get your data out of the app; that means you're limited to using the app's very rudimentary controls. Specifically, there's no way to zoom into your photos, you can't swipe to move among them, and they do not display properly in landscape mode.
Since this is a version 1.0 product, hopefully Magnolia Labs will address some of these shortcomings in future updates. Until then, if you have the need to record audio or snap photos in secret, Pocket's Pie may satisfy your inner spy. Otherwise, it's no substitute for the iPhone's built-in apps.
[Brian Beam is a web developer and partner with BOLD Internet Solutions, living somewhere near Kansas City.]