Pinheads Party by Republic of Fun is one of the first multiplayer board games to appear on the iPad. It makes excellent use of the iPad's larger screen and shows plenty of potential, however, the gameplay comes up a little short.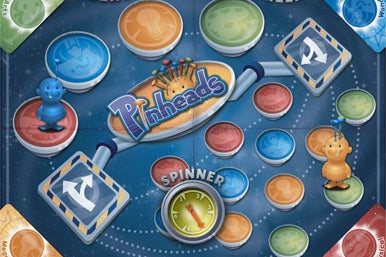 To play Pinheads Party, you'll need at least four people to form two teams of two people each, but you can add more players so you have up to four teams. Each team takes turns spinning a dial to determine the number of moves to advance their pinhead character around the playing board. The colors on the spaces correspond to one of four categories of challenges: Partial Arts, Wonder Words, Ultra Physical, and Mega Mental. Each successfully completed challenge earns a pin which is inserted into your character—hence the name. Collect eight pins and a bonus challenge first, and you win the game.
The board is beautifully rendered with slick animations and cute characters. The categories of challenges are well intentioned for the most part. Many are a variation on charades or drawing charades, however in most challenges, one team is left to the task of creating the actual clue for the opponent team to communicate to each other. For example, you might be provided with a general category like "movies", but your opponent decides which specific movie will form the basis of the challenge. In other words, your opponent can determine the difficulty of your challenge by their own selection. This might be fine for very casual gaming, but don't expect to enjoy any serious competition with such variability incorporated in the challenges. It is unfortunate the developer didn't create basic databases from which to create specific questions.
Pinheads Party is a solid start at some real fun multiplayer board gaming. The underlying design is solid and the presentation is great. Hopefully, future updates will develop a richer set of challenges where teams aren't forced to create their own challenges and instead can compete on a level playing field.
Pinheads Party is compatible with an iPad running iPhone OS 3.2 or later.
[James Savage is the host of the RetroMacCast a weekly podcast devoted to older Macintosh computers.]