Like clockwork, the eternal tinkerers at iFixit pounced upon an unsuspecting iPad Wi-Fi + 3G over the weekend and laid out the internals of its prize for the world to ogle.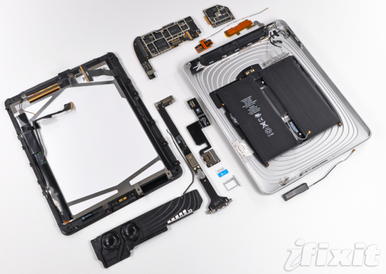 Should you want to peek under the hood of all that Apple magic, iFixit shows off its kill across a four-page iPad Wi-Fi + 3G Teardown. Besides the addition of 3G and GPS hardware, as well as the black plastic window along the top of the iPad to allow for cellular signals, it's pretty similar to the iFixit's previous iPad Wi-Fi teardown. There are a couple extra steps, of course, to disassembling the iPad Wi-Fi + 3G, including one antenna cable that has to be disconnected from the display before you can separate it from the iPad's body.
Interestingly, the iPad Wi-Fi + 3G uses the same 3G chip as the iPhone 3GS, but different GPS hardware.
However, while the iPad's 3G hardware is surprisingly unlocked from AT&T, everyone's favorite wireless carrier to hate is the only one in the U.S. that serves up the 850, 1900, and 2100 MHz UMTS/HSDPA 3G spectrum that the iPad supports. You can use your iPad Wi-Fi + 3G on T-Mobile with a little bit of physical SIM card hackery, but you'll be stuck on T-Mobile's slower EDGE network.
If you want to see more details of the iPad Wi-Fi + 3G's internals, head over to iFixit and ogle 'till your heart's content.
Apple iPad Tablet Computer
Apple iPad Tablet Computer