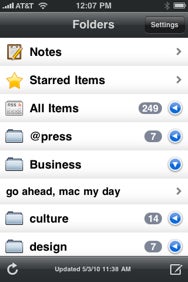 iPhone-slinging Google Reader users may soon want to reevaluate how they take their news on the go. Phantom Fish's Byline, a popular Google Reader client, is getting the 3.0 makeover treatment and adding a handful of handy new features and capabilities. The update is being submitted to the App Store this week.
New in Byline 3.0 is the ability to browse your feeds individually. Each Google Reader folder now has an arrow that expands the feeds it contains, making it easy to zoom in on a specific site. In addition, users can now easily toggle read and starred statuses from a headline list view. And Byline 3.0 features integration with Web-based services like Twitter, Instapaper, and Read It Later.
One unique new feature in Byline 3.0 is Webpage caching for feeds with truncated posts. Byline can sniff out posts that ask readers to click through to read the entire article, then automatically download and archive those pages for quick access or offline reading on the subway. Users can control which feeds Byline should cache content for: all truncated feed items, all starred items, and/or on a per-feed basis. Byline can cache each item's full page or pass it through Google's Website mobilizer service to save on time and bandwidth. Byline's settings have also moved out of the iPhone OS Settings app and into Byline itself, for easier access.
Altogether, Byline 3.0 boasts over a dozen new features. Phantom Fish is submitting the final version to Apple by Tuesday; the company also says that an iPad version of Byline is in the works, and while details are slim for now, it will most likely be a universal update, and iPhone OS 4.0 may be required.
Byline 2.5.6 is the current version available in the App Store; it costs $4 and requires iPhone OS 2.2.1 or later. Version 3.0 will be a free upgrade once Apple approves it.