Nordic River's TextFlow, a collaborative document editor, is now out of beta. Most notably, TextFlow Desktop 1.0 improves handling of layouts, images, and tables.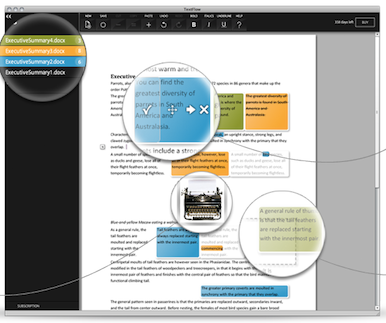 TextFlow lets you compare and manage different versions of documents you've produced in Microsoft Word or Open Office. It lets you do much more than the ubiquitous track-changes feature you'll find in word processing apps. TextFlow enables a large number of users to review and edit dynamically. TextFlow uses an Adobe AIR environment (not that there's anything wrong with that), and gives you a visually rich way to make editorial decisions. Earlier this year, Nordic River also announced a partnership with Box.net to take advantage of cloud-based document management.
TextFlow Desktop offers much better support for images and tables than its beta version. Previously, TextFlow deleted these elements when it merged different versions of your document; you then had to go back and reinsert everything. Now, images and tables are preserved as thumbnails, and the original layout is restored in the final version.
TextFlow Desktop 1.0 requires Mac OS X 10.4 or later. The application is available for $99, but you can preview it freely for 14 days before buying.