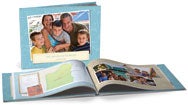 Mothers often say that their favorite gifts are items lovingly hand-crafted by their children. It is generally understood that they are lying, and would in fact prefer a box set of the last season of 24 or a nice bottle of Cabernet Sauvignon.
One notable exception is a custom-printed photo book, calendar, or card featuring pictures of their children, grandchildren, vacations, or family events. If you're an iPhoto '09 or Aperture 3 user, you can still create a custom photo gift in time for Mother's Day, which is this Sunday, May 9. To guarantee on-time delivery, these orders must be placed today, May 3, with express shipping.
The photo books books start at $12 for a three-pack of small softcover books with ten sheets in each. You can order hardcover, softcover, and wire-bound books in a variety of sizes, including the Cadillac of iPhoto books—a 12-by-10 inch hardcover book with a dust-jacket—for $50. iPhoto users can also design wall calendars for $20, which can be customized by importing iCal events to mark special occasions like birthdays and anniversaries. If you're strapped for cash, you can send mom a personalized card for just $2.
To make your photo books pop, choose from one of iPhoto's '09 or Aperture 3's custom themes, and add a colorful customized map to illustrate any travels. Also, make sure you include some pictures of your mom in the book.