FileMaker has introduced an update to its collection of free tools and templates designed to help users of its flagship database product streamline their business processes.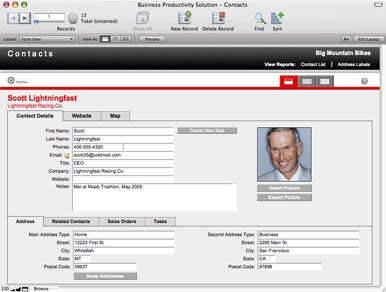 Called FileMaker 11 Pro Business Productivity Kit, the product comes in two versions: a Standard Edition designed for companies that sell physical merchandise, and a Service Edition for companies that deal primarily in intangible products, like consulting firms.
Both editions contain a number of templates designed to work with the recently-released version 11 of FileMaker that facilitate a number of business tasks, ranging from organizing contacts and suppliers to managing invoices and payments and sending targeted e-mail campaigns. In addition, the kit includes several tools that take advantage of FileMaker's functionality to provide features like "on the fly" reporting, charting, and search.
The Productivity Kit also comes with a free trial of FileMaker 11 Pro that you can use for thirty days. Once the trial expires, you will need to upgrade to a full copy of the database application in order to continue taking advantage of the kit's features.
The release of the Productivity Kit comes on the heels of the recent introduction of the Bento 3 Family Organizer, a similar free kit of templates aimed at organizing family activities and designed for the company's consumer-oriented Bento database program.