At a Glance
Expert's Rating
Pros
3G connection means Internet anywhere
No contract for 3G lets you pay à la carte
AT&T hotspot access is free with 3G service
Cons
3G network sometimes spotty
Higher price tag
3G burns battery faster
Our Verdict
Wi-Fi may be plentiful these days, but it's far from ubiquitous. A device like the iPad is just begging for always-on Internet access, whether it be for checking mail, surfing the Web, or even keeping up with your latest game of Words with Friends HD. Apple's iPad Wi-Fi + 3G delivers on that promise, though the 3G experience may occasionally have you searching about for a Wi-Fi access point tout de suite.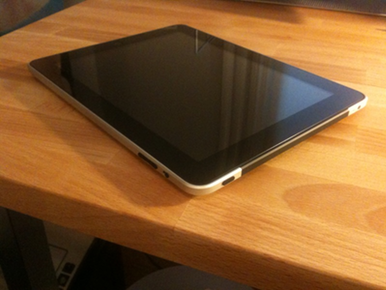 Everything my colleague Jason Snell said in his original iPad review holds true with this device, as the differences between the two models are few. Outwardly, the 3G-enabled iPad is almost identical to the Wi-Fi model, and the two share almost all of the same features, with the exception of those related to 3G networking and GPS.
For the privilege of those few features, however, you will be paying a bit extra: the 3G models command a $130 premium over their Wi-Fi-only siblings, making the price tags $629 for the 16GB version, $729 for 32GB, and $829 for 64GB. And keep in mind that the higher price covers only the 3G hardware inside the iPad. In order to actually use the 3G service, you'll need to pay for one of the two monthly plans that Apple and AT&T have teamed up to offer: a $15-per-month plan that allows you 250MB of data transfer or a $30-per-month plan that allows you unlimited data. And unlike the iPhone service agreement, which requires a two-year commitment with AT&T, you can cancel your 3G plan for the iPad at any time.
The performance
If you've spent any time with an iPhone 3GS, then you'll be pretty familiar with the iPad's 3G performance, as under-the-hood investigations show that the two use the same hardware.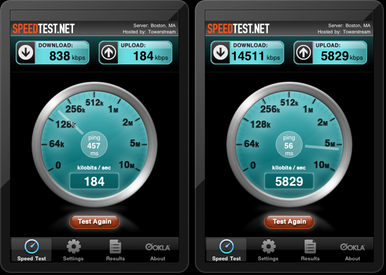 Given that the iPad also boasts the latest 802.11n Wi-Fi specification, there's no contest between the two: Wi-Fi will beat 3G every single time. I ran a few speed tests using the Speed Test iPhone application and, though unscientific, Wi-Fi's superiority was readily apparent—in one test at my home, Wi-Fi was an astounding 70 times faster at downloads and 30 times faster at uploads. Other tests (such as the one pictured here) showed less of a disparity, but still universally deemed Wi-Fi the winner.
Of course, such performance varies widely depending on the quality of the AT&T network in your location. And given that poor performance on AT&T's 3G network has been one of the major complaints with the iPhone, don't expect magically better performance on the iPad. The apartment to which I recently moved resides in a spotty coverage zone for AT&T's network, and I've experienced frequent signal drops, poor coverage, and slow service on both my iPhone 3GS and my 3G-enabled iPad. I also have one of Apple's recent 802.11n AirPort Extreme Base Stations, which helps me get the most out of my Wi-Fi network.
If you live, work, or otherwise spend a lot of time in a place with solid 3G coverage, you should find the iPad's 3G performance to be perfectly serviceable for most common tasks, like reading e-mail, surfing the Web, checking RSS feeds, and keeping up with social-networking sites like Facebook or Twitter.
But when you start to get into more intensive tasks, the cracks in the 3G network begin to show. While I was able to stream video, audio, view maps, and so on over the 3G connection, the performance was sometimes subpar. Streaming via Netflix's iPad app, for example, yielded video that was mostly watchable, though it did suffer from frequent pauses in playback as the video re-buffered.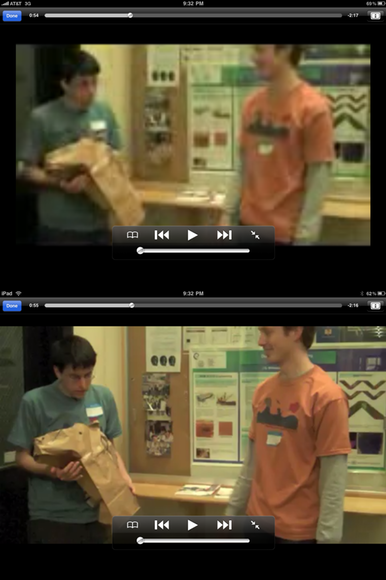 The quality of the video delivered over the 3G network is also noticeably lower than what you get via Wi-Fi. Netflix, for example, down-samples the video, though it's passable. I also tried the AirVideo video-streaming app, which allows you to pick and choose from a variety of data rates, but I still had trouble with pauses in playback.
I had even worse luck with the recent ABC Player update, which allows for streaming video over the 3G connection. Performance varied hugely depending on location, with streaming basically impossible to use at my home. However, I did find that other locations yielded better results, and in one particular incident, I actually had to flip the iPad's cellular data connection off and then on again to yield better speeds.
Most perplexingly, I found that YouTube videos streamed over 3G were practically unwatchable, due to their low quality—you appear to get the same videos that the iPhone gets over the 3G connection, which look terribly pixelated on the iPad's higher resolution screen.
In general, pretty much any bandwidth-intensive task from video streaming to rendering graphics-heavy Web pages takes longer to complete via the 3G connection, but when you're out and about with nothing to compare it to, it's not much of a bother.
The plan
As I noted in my first look at the 3G iPad, managing your AT&T account on the iPad is simple: you can sign up, monitor your usage, change your plan, and even cancel it all from the iPad's Settings app. While no contract is required, do remember that the data plans are prepaid, so once you activate a plan, you've got it for 30 days. Changing or canceling a plan won't take effect until the end of the billing cycle.
Of the two plans offered through AT&T, which should you get? Well, the ability to subscribe and cancel at any time is a hugely beneficial one: it means you only have to sign up for 3G service when you need it—say, when you're traveling, for example.
But if you're doing anything beyond e-mail and light Web surfing, you'll probably want to shell out for the unlimited plan. Streaming video, in particular, is hugely intensive: using the Netflix application can easily rack up in excess of 100MB in an hour. One feature-length movie can put you within spitting distance of your bandwidth cap.
There are cases where you might opt for the 250MB plan. As one of my colleagues suggested, perhaps you might want to check your e-mail or get online while you're staying at a hotel that charges—to put it diplomatically—premium fees for Wi-Fi access. It may very well be worthwhile, in such a case, to shell out the $15 just for the convenience. Plus, even the cheaper plan gives you the added bonus of free access to AT&T's nationwide network of more than 20,000 Wi-Fi hotspots, including one at each of the half dozen Starbucks that are no doubt within walking distance from your location at this very moment.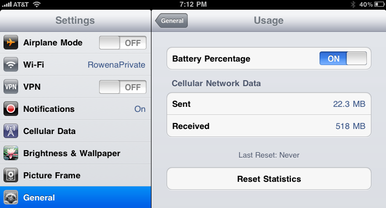 If you want to keep an eye on how much bandwidth you're chewing up, there are two options: one is to use the meters under Settings -> General -> Usage, which tell you how much data has been sent and received over the cellular data connection. This information is tracked by the iPad's operating system itself, so it should always be up to date. You can also view your bandwidth usage under your AT&T account in Settings -> Cellular Data, but that can sometimes take time to update as it's tracked by AT&T. In addition, if you're using the unlimited plan, you won't see your usage displayed there, just a note that you're on unlimited bandwidth.
Given the disparity between the prices and amount of bandwidth offered, I think most users will opt for the unlimited plan. If you hit the 250MB cap, AT&T shuts the service off unless you add another $15 chunk of 250MB or switch to the unlimited plan—and if the choice is $30 for 500MB or $30 for unlimited data, that's not decision that requires a lot of thought.
One downside to 3G connectivity through your iPad is that even if you already have an iPhone, with its attendant $30-per-month unlimited data plan, you'll need to pay for the iPad's data plan separately. All of a sudden, you're racking up $60 every month for 3G data—and if you have more than one 3G-enabled iPad in your family, you'll have to pay full price for each one since AT&T doesn't offer any sort of family plan.
The power
The addition of cellular capability to the iPad raises another question: how does the device's battery life hold up? While Macworld Lab is still conducting more definitive testing, my informal experience suggests that the 3G connection does impact the bottom line for power, though not as badly as you might fear. While relying on the cell phone connection, I saw the battery power dip much lower than it had on any day while using the Wi-Fi model, but not so much so that I was unable to get a full day's use out of it.
But remember that the addition of 3G support and GPS means that the iPad carries four separate radio chips that can all be active simultaneously: the cellular connection, Wi-Fi, GPS, and Bluetooth. Having all four of these on at once can definitely put a dent in your battery. In fact, a solid day's worth of mixed usage—from about 8:30 a.m. to 5:30 p.m.—dropped me as low as 40 percent of battery life, which is lower than I reached in daily average usage of my Wi-Fi iPad in the previous weeks.
You have the ability to deactivate the cell connection under Settings-> Cellular Data and rely only on Wi-Fi. And that's a welcome option, especially if you spend a lot of time in a location where the iPad struggles to get a solid signal. I've taken to leaving the cellular data connection off unless I'm specifically out of Wi-Fi range, at which point the battery life ought to more or less be equivalent to a Wi-Fi-only iPad.
Macworld's buying advice
The 3G iPad is every bit as good a device as the Wi-Fi-only model, and it's only more capable than its fellow model. There are no significant tradeoffs with the 3G version, as long as you're willing to pay more in exchange for more capability. My colleague Mr. Snell made the case for a 3G version of the iPad well before it shipped, and having one in my hands, I find myself inclined to concur with his conclusions—that 3G connectivity gives this version of the iPad a measure of flexibility missing from the Wi-Fi-only version.
Assuming you're already sold on the idea of an iPad and merely want to figure out whether to buy the 3G version or the Wi-Fi-only model, the real question you need to ask yourself is: is it worth it to spend an additional $130 to have the option to use 3G service? Look at it as an investment that at some point down the road you'll be trapped somewhere without Wi-Fi, and you'll be glad you can still play that triple word score.
[Dan Moren is a senior associate editor for Macworld.]
Updated at 11AM PT to clarify the number of radios in the iPad 3G.
Updated 5/5 at 8AM PT to clarify speed test results.