At a Glance
Expert's Rating
Pros
Spell-check available in every program
Includes auto-correction, text-expansion, and auto-completion functionality
Ghost Writer keeps backup copy of everything you type
Cons
Incredibly complex interface
Our Verdict
If you find OS X's built-in spell-checker and thesaurus good enough, you have no need for Spell Catcher X. But if you spend the majority of your computer time typing words, Spell Catcher X is a great addition to your toolkit. Be forewarned, though: it will take some time to master its interface. If you're willing to put in the effort, Spell Catcher X has much to offer.
While Mac OS X's built-in dictionary/thesaurus is good, it has its limitations. It doesn't, for example, work in all applications (Firefox and Chrome are a couple notable exceptions). If you spend a lot of your time typing, and you want a better tool, you should consider Spell Catcher X. Despite the name, Spell Checker X is much more than a spelling tool. The developer describes the program as a writing assistant, and that's an apt summary.
Installation is relatively straightforward, with one exception: When you first run the program, you'll be asked whether you want to install Spell Catcher X's input-method application, input-method component, or both. The application works with 64-bit Mac programs and most 32-bit programs; the component works with those 32-bit apps that aren't compatible with the application. While that might sound confusing, in reality it's not: I installed both and had no trouble using Spell Catcher X with any of the programs I tested it with under OS X 10.6.
Once installed, Spell Catcher X enables and is accessible via OS X's Input Menu (in the main menu bar); to activate Spell Catcher X, click on the flag icon in the menu bar and then choose Spell Catcher X from the drop-down menu. This action changes the flag icon to a checkmark icon, indicating that the program is active. Click the same menu again to display Spell Catcher X's own menu (which is an incredible 28 entries long).
Once Spell Catcher X is activated, it's active in every application. In my testing, it worked in Firefox, Chrome, and every other app I threw at it; I was even able to see spelling errors in a document I created in jEdit, a text editor written in Java. With OS X's spell checker, you often wonder whether it will work in a given app; it's nice knowing that Spell Catcher X is always there.
You can use Spell Catcher X as you do the built-in spell checking, correcting words via a panel that appears when you activate spell check. Or you can have a panel or window pop up automatically when Spell Catcher spots a mistake. There's also a third mode, DirectCorrect, that works only in certain applications. This mode provides real-time, colorful, impossible-to-miss overlays for words that need correcting. The colors represent different problems: blue for repeated words, red for incorrect spellings, brown for bad punctuation, and purple for incorrect capitalization.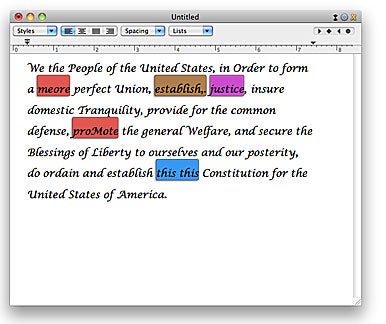 You can customize the way Spell Catcher works in individual programs; for example, you could use the pop-up window in one program and DirectCorrect in another. When you switch apps, Spell Catcher X will change its settings accordingly.
When the program does find an error, your Mac's voice will speak the word curious to indicate that it has found a questionable word. If you'd rather not hear your computer speak every time you make a typo (and I know I don't), you can change the style of the alert, or even disable it entirely.
Spell Catcher X also provides more dictionaries than the spell checker built into OS X, including ones for medical, geographical, legal, and biographical vocabularies. There are also editable learned-words dictionaries covering computer terms, HTML syntax, and abbreviations.
While all of these spelling features work well, they barely scratch the surface of what Spell Catcher X can do. For example, the program also includes a robust auto-correction tool, which you can use to automatically fix errors such as double capitals and double spaces, and to automatically format smart quotes and fractions. There's also a dictionary of words to automatically correct, populated with more than 3,500 common typographical errors—for example, allready and popualr. I found this feature to be incredibly useful, as it caught a large number of my typical mistakes. When a word is corrected by this dictionary, Spell Catcher lets you know with a subtle beep. (You can change this sound, but I liked hearing it, as it would catch my brain before my fingers tried to go back to fix the typo that I knew I had made.)
There's also a Shorthands dictionary, Spell Catcher's name for an abbreviation-expansion tool. By editing the Shorthands dictionary, you can create abbreviations and their corresponding full text. For instance, you could define the shorthand snc as an abbreviation for Sincerely yours. Expanded texts can include special characters (Tab, arrow keys, Return, and so on). That said, Spell Catcher X isn't nearly as full-featured as the dedicated text-expansion tools such as TypeIt4Me ( ) and TextExpander ( ) . You can't, for instance, set the cursor position, execute AppleScripts, control the trigger keys that activate your shorthand expansion, or insert the contents of the clipboard in a shorthand entry. Still, as a basic expander, Spell Catcher X works well.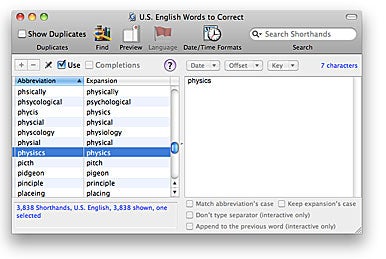 Spell Catcher X also offers a feature to quickly insert information from Address Book. For instance, when I type apple and choose Completion from the Spell Catcher menu, I see a pop-up list of choices that include the company's name, phone number, e-mail addresses containing apple, and even contact information for an acquaintance at the company.
Spell Catcher X's Ghost Writer feature is the ultimate protection against unexpected quits and crashes. With Ghost Writer enabled for a given program, Spell Catcher X will keep a record of every keystroke you type (except for usernames, passwords, and anything else typed in a secure text-entry box). For example, if you're typing in TextEdit and your Mac crashes, once you're back up and running you can open the Ghost Writer files and copy and paste your pre-crash text back into TextEdit. Note that because the feature captures every keystroke, you won't get an exact copy of your lost document, but rather a record of everything you did while editing. Still, Ghost Writer may spell the difference between retyping just part of your lost magnum opus and and retyping the whole thing.
While Spell Catcher is undeniably powerful and useful, it's also one of the most complex programs I've ever reviewed. Its menu bar icon features more than 25 separate entries, including four with sub-menus that contain 20 more entries. The preferences screen contains eight separate tabs; two of those together contain eleven additional tabs. If you find some aspect of Spell Catcher's appearance or functionality you'd like to tweak, the odds are good that you can do so; the challenge lies in figuring out how.
To make things even more complicated, six of the eight preferences tabs can be set up on a per-application basis; there's a drawer on the side of the preferences window listing applications with customized settings. An entire section of the preferences panel is devoted just to customizing the shortcut keys for those 28 entries in the program's menu bar icon.
If this all sounds confusing, it is. To get the most out of Spell Catcher X, you really need to dive into its thorough in-app help, and spend some time with the PDF user manual. Even then, there's a steep learning curve to get through before you'll feel comfortable with the program. But if you're willing to put in the effort, Spell Catcher X has much to offer.