Angry Birds HD by Chillingo brings all the greatness of the original version with the added bonus of a larger canvas and better graphics. If you're unfamiliar with this addictive puzzle/action game, refer to Macworld's review of the iPhone version. In summary, evil little green pigs have stolen the birds' eggs, and the birds are non-too-pleased. It is your job to fling the different birds at the pigs to destroy them. Unfortunately, the pigs have constructed an assortment of buildings and fortifications you'll need to knock down in order to defeat them.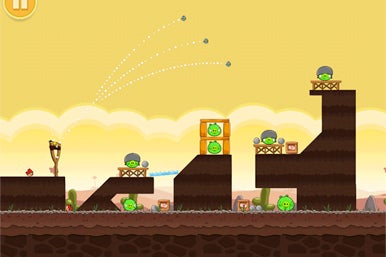 While the gameplay is identical to the iPhone version, the larger screen has several benefits. The adorable characters, clever animations, and well designed levels come alive on the larger screen. Aiming is now easier since your finger doesn't block out as much of the screen when pulling back on the slingshot. While the gameplay still spans across multiple screens when zoomed in, zooming out becomes a practical option for surveying the situation and lining up a shot—something difficult to do on the iPhone's smaller screen.
Fans of the iPhone version balked at the HD version when it was first released since it didn't offer anything new beyond the improved graphics. However, since its initial release, Angry Bids has been upgraded to include even more levels, a new bird type, and hidden golden eggs to find. It is now definitely worth the purchase for new gamers and existing fans of the game.
Angry Birds HD is compatible with an iPad running the iPhone 3.2 software update or later.
[James Savage is the host of the RetroMacCast a weekly podcast devoted to older Macintosh computers.]