While the film world is busy squabbling about whether a gimmick like 3D can revolutionize the industry, iPad comic readers are attempting their own revolution. Sure, techniques like panel-by-panel reading are amusing enough, but what if you could feel explosions from your comic? Madcap Studios's Digital Comics app aims to enrich your comic-reading experience in just this way.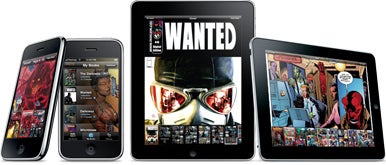 Released on Tuesday, the comic reader provides a unique "Automated Reading" option, adding pre-timed action animations and device vibration to your reading experience. Comics can also be read manually or "panel-by-panel," similar to Marvel's paced walkthroughs.
Digital Comics' initial offerings can be bought through its in-app book store; Madcap currently has deals in place with the likes of Top Cow, Antarctic Press, and Joe Phillips, with more artists and studios coming soon. In addition, if you've bought any stand-alone comic books from Madcap, you can consolidate them into the app at no extra cost. Most comics will be priced at $1, according to the developers, with one or two free comics to lure viewers in.
The app also provides a few nice UI touches like background wallpaper and icons letting readers know when they've started, are in the middle, or are done reading a particular title.
Digital Comics is a free universal download from the iTunes Store for the iPhone and iPad iPod touch and requires iPhone OS 3.0 or later.
Update: Madcap tells us Digital Comics isn't Universal yet, but an update is expected in 2-3 weeks. However, if you run the iPhone app on your iPad and blow it up to double size, the content should scale even if the UI doesn't.