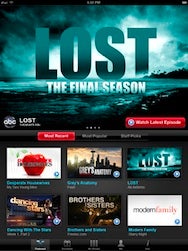 ABC Digital released the latest version of ABC Player on Tuesday, and it's a sizable update that brings some of the most oft-requested features to the iPad app.
The most important new feature is that the application now supports streaming video over 3G. While the lack of 3G streaming was mainly an academic annoyance when the app was released, the fact that Apple is now shipping 3G-enabled iPads has moved that omission into the foreground, so it's good that ABC moved to add the feature so quickly.
Other new features include support for landscape orientation in all views, which means that you will no longer have to keep rotating the device to portrait orientation between videos. It also supports the iPad's hardware orientation lock. Among various other minor bug fixes and improvements, the latest version of the app also features more responsive controls and improved display of parental ratings.
ABC Player is a free download from the App Store; it requires an iPad running iPhone OS 3.2 or later.