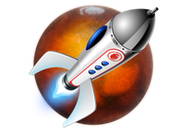 There was a time when every blog post I composed was in Red Sweater's fabulous MarsEdit. Due to technical restrictions on Macworld's current servers, those days have been put on forcible hold, but I'll admit that Tuesday's release of version 3.0 of the Weblog editing software does have me sighing wistfully. I mean, blog editing and spaceships—that's the future right there.
Besides the fancy new space-faring icon, designed by the fine folks at The Iconfactory, MarsEdit 3.0 includes a bunch of major new features. First and foremost, Red Sweater developer Daniel Jalkut has long been hard at work adding a rich-text editor mode to the program. Now you can edit in true WYSIWYG fashion, seeing all the italic, bold, and linked text just the way it'll appear on your blog.
If you're more of the HTML-editing type, like me, then don't worry: not only is that capability still present and accounted for, but there's also now HTML syntax coloring, with distinct hues for tags, attributes, and keywords. That makes it even easier for me to see my inevitable typos and mistakes before I push them out to the world, which I'm sure you'll all appreciate.
MarsEdit 3.0 also sports improved media features, like the ability to skim through your photo libraries (in iPhoto, Aperture, or Lightroom) and embed a picture into your blog post. You can even schedule when that media gets attached, allowing you to write up pieces while you're offline and have them published when you're connected again.
In addition to those headline features, there are plenty of other welcome improvements, like support for custom fields and the ability to edit and create WordPress Pages.
MarsEdit 3.0 costs $40 and requires Mac OS X 10.6 or later. Existing owners can upgrade for $15 or, if they bought MarsEdit after January 1, 2010, for free. A family pack for up to five users is available for $60.