Editor's Note: The following article is reprinted from PCWorld.com.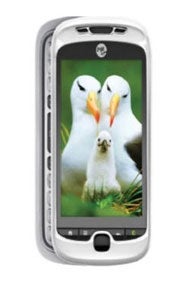 Another day, another Android-powered phone: T-Mobile took the wraps off the myTouch 3G Slide, coming to the network in June. The newest addition to T-Mobile myTouch family stands out from its siblings, however, as it flaunts a full QWERTY keyboard, a new Android user interface and a bigger touchscreen. I had some hands-on time with this smartphone and was impressed with its user-friendly design and features.
The myTouch 3G Slide might not be as pocketable as the original myTouch 3G, but that keyboard is a welcome addition. It's nicely designed, too with large, comfortably-spaced keys. If you prefer to use the touch keyboard, you have the option to use Swype for quicker typing. Another improvement? The 3.4-inch display with multitouch as opposed to the 3.2-inch display found on its predecessors.
The myTouch 3G Slide is powered by the latest Android 2.1 firmware, but sports a custom-built user interface by HTC and T-Mobile. It has some HTC Sense-like features, like the pretty weather app as well as the socially-aware address book (which aggregates your friends' contact information from your social networks).
It offers a few other unique, user-friendly features, like myModes, for example. MyModes lets you customize your phone for both your work life and your personal life via widgets, homescreen apps and wall papers. If you try to avoid work e-mail and appointments as much as possible over the weekend, this feature might be useful for you; you can simply set those applications to be hidden from your homescreen when you leave your office. You can program myModes to switch by location (using GPS) or you can switch it manually.
One concern I have is how much this top-layer user interface might bog down Android 2.1. From my hands-on demo, however, the phone seemed speedy enough.
Another useful feature is the Genius button, one of the hardware buttons found on Slide's front face, below the display. Press the Genius Button and you're taken to a simple voice command menu. From there, you can use commands to make calls, compose and send texts and e-mails, search the Web and more.
I took a few snapshots indoors with the Slide's 5-megapixel camera and was impressed with not only the quick shutter speed, but with how well the flash highlighted my shots. I'll of course put it to the test in other environments when I get an actual review unit in house.
Pricing for the myTouch 3G Slide has not been announced, but since this is a lower-end device, I'm guessing it will in the $100-150 range.