The already dizzying array of options for watching video on anything but your living room TV may soon make your head spin even faster. In the age of HD-everything, some TV and film studios initially balked at the concept of watching content on pocketable screens. But inspired in part by the iPhone's success, the major studios are ramping up to go mobile in so many ways, you might have to sit down to catch your breath.
As the New York Times reports, Hollywood is following its audience's migration to the smartphone. According to the Nielsen Company, about 17.6 million people in the U.S. watched video on their phones in Q4 2009, which has nearly doubled from the 11.2 million who watched video the same way just a year before. Vivi Zigler, NBC Universal's president for digital entertainment, even shared that 60 percent of mobile visitors to NBC.com are coming from their homes—in other words, users are opting to watch video on a mobile device even when they presumably have a larger and higher-quality TV within arm's reach.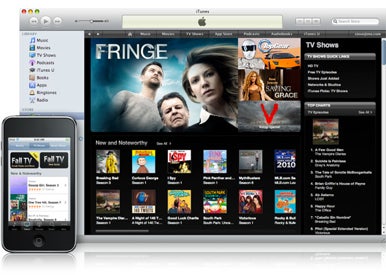 To satiate this growing appetite for video on-the-go, carriers such as AT&T, Verizon, and Sprint offer TV subscription packages for various phones, as do smaller video streaming startups, including Flo TV and News Corporation's upcoming Bitbop. Netflix and ABC made big splashes with streaming video on the iPad, while rumors abound of Hulu arriving on iPhone and/or iPad "soon." Apple, of course, has sold á la carte TV shows and films through the iTunes Store for years that are compatible with the iPod, iPhone, and now, iPad.
Interestingly, despite the major studios making their biggest push yet into the mobile video gold rush, no one seems to have a very good idea how to make money on pocketable mainstream content. Flo TV, for example, says that few people are buying into its paid plans that start at just $10 per month. The last time Apple released TV show sales numbers was in 2008, when it announced that the iTunes Store had topped 200 million episodes sold. Those numbers may have improved in the last year and a half, but for whatever reason, Apple has yet to boast about them again.
As the number and variety of mobile video venues grows, however, the market could become frustrating for consumers. iTunes Store stocks more than 55,000 episodes from more than 3000 shows, but there's still a lot missing. Plus, not everyone wants to buy entire seasons or pay $2 to $3 per episode, and Apple's reported negotiations with the studios for cheaper $1 TV episodes or $30 TV subscription plans seem to have stalled. On the streaming side, individual studio efforts like ABC's are great (especially since many consumers' favorite TV flavor is "free"), but so far it's the only one to make a major push, and even then the selection is scattered and the back catalog is limited. Netflix is one of the most popular and widely available streaming video subscription services, but it has yet to arrive on the iPhone, let alone any other phones. Plus, Netflix cut a deal earlier this year with Warner Bros to wait on new releases for 30 days since the studio hopes to sell more physical DVDs. This move sparked fears that other studios may demand similar terms, which could basically handicap Netflix's appeal as a mobile video streaming service—and possibly the market as a whole.
Whether via stream or download, video is going mobile in a big way since that's where our eyeballs are increasingly looking. But the studios appear to need some time to figure out whether subscriptions, á la carte pricing, advertising, or some mixture of the three will generate the revenue they need to make mobile video a viable stage.