Editor's Note: The following article is reprinted from the Geek Tech blog at PCWorld.com.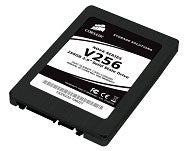 Computer hardware and peripheral maker Corsair, known for their memory products, announced this week that two newcomers will be joining the company's Nova Series of solid-state drives (SSD).
Corsair's Nova Series of SSDs was originally introduced back in February in 60GB and 120GB configurations. Monday's announcement adds two new sizes to the product line–one weighing in at 32GB with another offering a more meaty 256GB of SSD storage.The 32GB model is being positioned for use as a boot drive for basic setups, whereas the larger 256GB SSD is recommended for use in more high-end systems.
The 32GB Nova Series drive offers read speeds of up to 195MB per second, with write speeds of up to 75MB per second. The 256GB model can achieve read speeds of up to 250MB per second and writing speeds of 195MB per second. Corsair claims that, like the other drives in the Nova line, these two new configurations promise fast performance, low power consumption and silent operation, all of which is backed by a two-year limited warranty.
The two new drives are available now, however no pricing details have been revealed at time of writing.
[Via Softpedia ]