It's time to close that spreadsheet, get out your gaming mouse, and tug at your charity strings. A group of independent, cross-platform game developers have debuted the Humble Indie Bundle.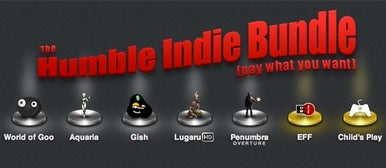 For the next week, you can score five popular indie games for the price of… well, whatever you want. World of Goo, Aquaria, Gish, Lugaru HD, and Penumbra: Overture, all of which are cross-platform on Mac OS X, Windows, and Linux, can be purchased for yourself or a friend at a price you set.
The proceeds are split evenly by default with the Electronic Frontier Foundation and the Child's Play charity, though you can manually divvy up your purchase price to whichever organization(s) you choose.
As of this writing, more than 6,200 contributions have yielded an average contribution price of $7.66 which is pretty sad. All of these games are free of DRM, and most regularly sell for $20, with one at $30, and the cheapest going for $10. Hopefully, the Humble Indie Bundle proves to be a success for all seven participants.