Caster HD, developed by Elecorn LLC, is an engaging sci-fi third-person shooter for the iPad and iPhone. You're cast as the titular Caster, tasked with battling an infestation of bug-like Flanx. The game looks and sounds great, and sports a retro style that's reminiscient of Zelda: Ocarina of Time crossed with Panzer Dragoon. While fun to play, the controls need some work. At $5, it might be worth your time.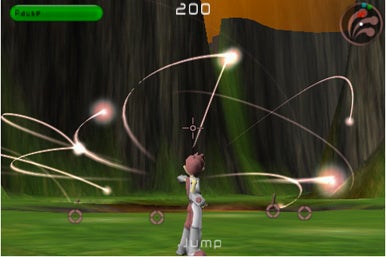 Before you even start playing, there's plenty to customize. Besides traditional options like controlling the volume of music and sound effects, you can also adjust the graphic intensity and camera behavior. Beyond that, the game offers three difficulty levels, ranging from casual to extreme. For my testing, I left all of those settings at their defaults.
Once you've chosen your character, you can dive in and start playing Caster HD. Wisely, the developers include an initial tutorial level that explains the game's basic mechanics. It's worth spending some time with the tutorial to master the game's interesting but imperfect control scheme:
Your left hand controls your characters movement by dragging in any direction on the left half of the screen. Tap and hold with your left hand for a "boost," which makes you go faster until you've depleted your energy. Your right hand controls the camera angle and zoom level by swiping on the right side of the screen. When you want to attack, touch and hold on the right side of the screen to use your current weapon. The game has a rudimentary homing attack function, meaning you don't necessarily need to have pinpoint acccuracy with your attacks—they'll wind their way to their target in an arc of light and sound. A small jump button at the bottom center of the screen works as expected.
The controls are easy to remember, but harder to take advantage of as gameplay gets more intense. When it's time to aim your weapon, maneuver around many advancing enemies, or just run like hell, the controls' lack of preciseness becomes very frustrating, very quickly.
Still, Caster HD has plenty going for it. The game is a bit nostalgia-inducing; the sparse terrains and cut-scenes seem decidedly old-school, yet still feel right at home on a touchscreen. In fact, the pleasantly drawn levels are often huge, and without the game's ever-present radar, I would be perpetually lost. Caster's rendering engine supports terrain deformation, and it's not just added eye candy—from time to time, you'll need to fire upon steep hills so that you can make them more climbable.
As nice as everything looks, I did notice some serious frame rate issues during explosions. When I attacked enemies and they blew up, the subsequent choppiness during the explosive animation essentially froze my character completely until the animation was over.
The soundtrack and sound effects are excellent. Sometimes, the sound effects are almost too good; some of the evil insects intent on killing you can make some pretty unpleasant noises.
In between levels, you can use your credits to buy various upgrades, all of which make the game significantly more enjoyable. Your initial boost ability lasts for just a second or two, but with a couple upgrades you can run around much faster for much longer. Given how barren and massive some of the landscapes are, the ability to cross them more quickly comes in quite handy. You'll traverse lava pits, forests, mountains, and many other sparse (but beautiful) environments throughout the levels.
Caster is episodic, and currently includes two episodes. The developers promise more episodes are on the way, as free upgrades for those who already own the game. Each individual level within an episode takes just a few minutes to complete, but those few minutes tend to be fairly hectic.
Overall, Caster HD is a bit of a let down. If you're a fan of the third-person shooting genre, you'll definitely have a good time playing, but the frustrating controls will keep you from getting fully immersed in the experience.
[Lex Friedman blogs about the iPad and other fine things, when he's not murdering evil-doing insects.]