Editor's Note: The following article is reprinted from GamePro.com. For more gaming news, visit GamePro's news page.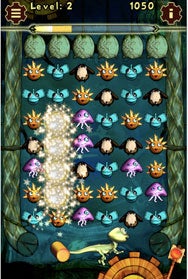 Apple may be redefining online iPhone gaming with its forthcoming Game Center service, but with the official release date for the 4.0 OS upgrade still a season away, current iPhone apps are still in dire need of online solutions. Capcom's two newest games have found a partner in OpenFeint, one of the foremost iPhone online gaming service companies.
OpenFeint will provide worldwide leaderboards and achievements for Capcom's two most recent releases—former DSiWare exclusive Dark Void Zero and Hatchlings, a puzzle game that was released Monday. Both are currently available in the App Store for $3 and $1, respectively.
The next few weeks may prove to be extremely crucial to the likes of Plus+ and OpenFeint as viable services, and the companies need every major opportunity to prove their worth before Apple provides its centralized service.