Editor's Note: The following article is excerpted from PC Advisor.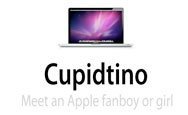 Everyone's heard of Apple fanboys, but what about the girls? Mac fans no longer need spend all night rearranging their Docks and writing poems in honor of FireWire—there's a new dating service just for them. And we don't mean iCal.
Cupidtino is a new dating service just for Mac fans. Windows users, even if you own an iPod and an iPhone, that PC on your desk is going to cut your third date short, my friend.
Saying "I'm a PC" is not a recommended pick-up line. And users can presumably feel more relaxed about the potential of catching any viruses.
The service—a pun on the location of Apple's Cupertino HQ—launches in June, but the Website is already on the look out for love-lorn Apple users:
Cupidtino is a beautiful new dating site created for fans of Apple products by fans of Apple products! Why? Diehard Mac & Apple fans often have a lot in common—personalities, creative professions, a similar sense of style and aesthetics, and of course a love for technology.

We believe these are enough reasons for two people to meet and fall in love, and so we created the first Mac-inspired dating site to help you find other Machearts around you.
Cupidtino has been set up by three self-confessed Apple geeks (two developers and a designer) with backgrounds at Google, Microsoft and Yahoo.
"We're based in San Francisco and obsessed with our Apple gadgets (we have them all!)," they proclaim.