At a Glance
Expert's Rating
Pros
Lets you watch, record, edit, and export TV shows
Works with free and HD programs
Software includes editing functionality
Cons
Antenna not included
IR remote requires line-of-sight
Can't set number of episodes to record with Smart Series
Complicated to use with cable or satellite boxes
Our Verdict
For many years, Elgato has offered Mac users the hardware and software to turn their computers into TV-tuning, DVD-functioning wonderlands. Or, to put it another way, letting people watch, record, edit, and export TV shows on their Macs.
The latest version of Elgato's EyeTV Hybrid TV tuner lets you access over-the-air SD and HD channels (ATSC) and unencrypted analog (NTSC) and digital (Clear QAM) cable channels, as well as signals from cable and satellite boxes (more on that shortly). Plug the Hybrid into a USB 2.0 port (either directly or using the included USB extension cable), attach the coaxial adapter, connect either an antenna (not included) or cable, and you're ready to go. There's an included break-out cable offering analog-only inputs for game consoles, DVD players, VCRs, and the like. Unlike the previous version, the Hybrid no longer includes an FM tuner. I tested it with a small antenna on my desk at work with a clear view of San Francisco's Sutro Tower, from which I could pick up nearly 40 channels.
The brain of the Hybrid is the EyeTV 3 software that comes with it (which you can also purchase separately for $80 and use with hardware from more than a dozen other companies).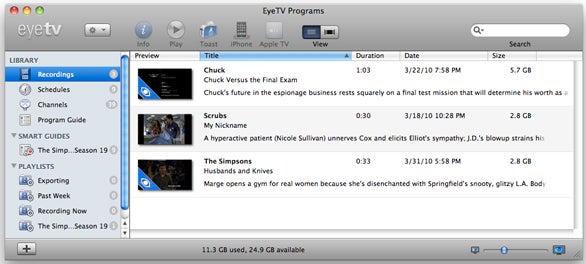 Using the EyeTV software you can watch live TV; pause and rewind live shows thanks to a storage buffer (by default, 2GB, but you can change the size, and therefore the length of buffer time); schedule and record future programs; and watch recorded programs on your computer. (Using the $5 EyeTV iPhone app, you can watch live and recorded TV on your iPhone or iPod touch, as well). The software includes one year of TV Guide program data ($20 per year in subsequent years) that shows, among other things, what episodes are coming up on what channels and whether they are new episodes or repeats. (This info is similar to the guide data you'd get from a TiVo or other DVR.)
The hardware/software combo offers most of the features you'd expect from a DVR. When you find a program in the guide, you can click it to switch to a view showing a summary, the length, actors, and more. From there, you can click the Add Schedule button to set a program to record, or Record All to set what Elgato calls a Smart Series—akin to TiVo's season pass—to record all future episodes. One problem with the way the EyeTV software handles series recordings, however, is that there's no way to limit the number of episodes it will record or keep, and since there's also no way to tell the software to leave a certain amount of free space on your hard drive, recordings can gobble up every last megabyte of room if you're not careful (an hour-long HD episode of Chuck took up 5.7GB, for example). If you set up a manual recurring recording, you can set the number of shows to keep, but that somewhat defeats the purpose of built-in series functionality.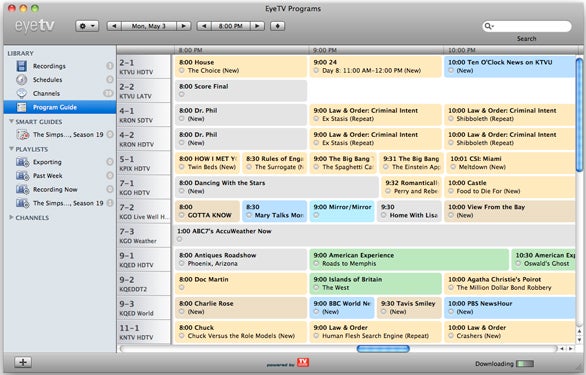 With U.S. models, the EyeTV software now supports several cable and satellite set-top boxes. However, it can't change the channels on those boxes, so you'll need to purchase and set up an IR blaster—a hardware/software combo that relays infrared remote commands—a process that can be difficult. And because you must hook the Hybrid up to the set-top box's analog outputs, you can't view or capture shows in all their HD glory.
The software can wake or boot up your Mac to record a scheduled program, but I ran into problems on one Mac with lots of login items—although the Mac Pro started up just fine, some combination of login items prevented the Elgato app from launching and recording as expected. On my MacBook, however, the software launched and recorded just fine.
In addition to watching shows in the EyeTV software, you can export recordings for playback on devices such as Apple TVs, iPhones, and iPods; convert recordings and automatically add them to iTunes; and send recordings to Toast or iMovie. If you want polish up files and save space before exporting (remove commercials, for example) there's a built-in editor. Although somewhat tedious to use—you need to mark off each section you want to remove, and then select the Compact command, which takes a while and can't be undone later—it's nice for archiving shows for future viewing.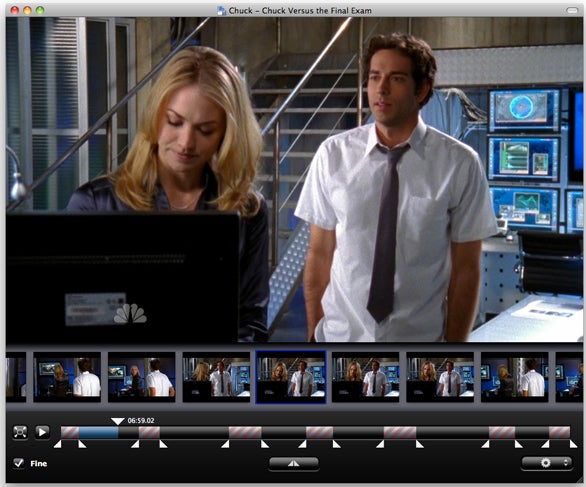 Although you can control everything in the software from your computer, you might want to, say, sit back on the couch and watch TV on your huge iMac without having to walk back and forth to your computer. The Hybrid comes with an infrared (line-of-sight) remote control for this purpose. However, while the remote works fine when watching on a laptop, since the sensor points in the direction you'd be sitting, with a desktop system, you need to use the USB extender cable—and even then, the Hybrid might not be facing the right way for the remote to work. Also, the remote's buttons and minimal labels don't make it as easy to use as it should be.
Macworld's buying advice
If you live somewhere with good over-the-air reception or have unencrypted cable channels, the EyeTV Hybrid is a great way to watch, record, and convert TV shows. If you're hoping to use it with your cable or satellite box, it's still a complicated process and you can't get HD quality.