There's a nifty idea behind Political GPS. The $1 app from Thomas Huntington lets users track members of Congress and how they vote. But the app is awkwardly executed—better at collecting data than it is at presenting information in a useful manner.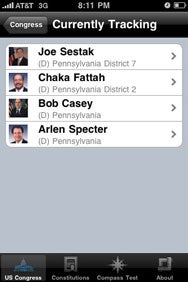 The problem: Political GPS doesn't actually track the members of Congress that you select. You essentially bookmark them—and you can only look at one Congressional representative at a time. So if you want to compare how your state's delegation voted on the Affordable Care Act, you're going to have to do the tedious work of looking at each individual's voting page.
And you'll have to come armed with pretty specific information. Click on Congressman John Doe's "votes" page, and Political GPS presents you with a long list of unexplained bill numbers. It's only by clicking on each bill number that you can get a brief explanation of the bill.
Other features of Political GPS are easier to use, but esoteric. One item lets you look at "Constitutions"—your choices include the U.S. Constitution, Great Britain's Magna Carta and France's Declaration of the Rights of Man. Another feature is "Compass," a 30-question Facebook-type quiz that determines your political leanings. (That's the lone feature in the free version of the app.) Political GPS is cute, but not that helpful.
[Joel Mathis is a freelance journalist and political columnist for Scripps Howard News Service. He lives in Philadelphia.]