Fans of massively multi-player online role playing games haven't had much reason to celebrate since the App Store launched nearly three years ago. But the genre gets a major kick start with the 3D fantasy MMORPG Pocket Legends from Spacetime Studios.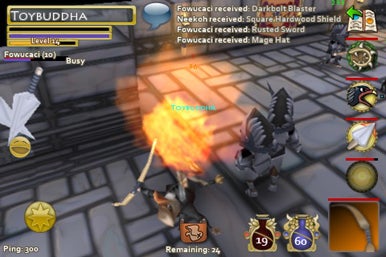 Pocket Legends is quite an impressive accomplishment. Spacetime Studios has managed to create an immersive and addicting online RPG complete with dungeons, character skill trees, plenty of loot and cooperative gameplay. To get started, you create an account, pick a character class, a character name and jump right into the action. Currently, there are three classes to choose from—Archer, Warrior and Enchantress. The archer prefers to attack from a distance with his bow, the warrior can take lots of damage while fighting several enemies at once and the enchantress can deliver devastating magic attacks as well as heal other party members. Each class has different skill trees to fill out as well. As you level up you gain access to new class-specific skills like a "ground pound" attack that knocks back surrounding enemies or buffs that temporarily increase your stats. Gaining a new level also means you get points that can be used to increase these skills or boost your character's base stats.
You can set out to slay zombies, skeletons and other baddies with up to four other players or just go solo and keep all the loot to yourself. You can host your own game or quickly join a game already in progress for some fast action. You can also make friends so you can see if there in-game and quickly join their party.
The world isn't completely free-form, however. Pocket Legends isn't an open world-style RPG like World of Warcraft. Instead, dungeons and other maps are instances that you get to through menus. Once you complete a stage in a campaign you are instantly transported to the next stage until you complete that campaign. Some campaigns have you crawling through dungeons while others may have you making your way through forests or castles.
Monsters and bosses often drop gold and items like weapons, armor and potions. Many items can also be purchased in the store for gold or even real money through in-app purchases. However, the best items in the game can only be obtained by defeating enemies—This keeps things balanced instead of allowing people to just pay their way to the top. Pocket Legends is based on the fremium model so the game itself is free with in-app purchases for gold, items, extra character slots, emotes and higher level campaigns. Most of theses add-ons cost between 1-2 dollars. You can play for free up to level 13, but to advance your character from there you'll need to purchase higher level campaigns. So far there are four extra campaigns available and these will take you to the current level cap of 30. Spacetime Studios has been steadily releasing new content and tweaking the game since it came out and have some great updates in the pipeline for a future release. Some of the things in the work are new campaigns, a higher level cap, trading items with other players, a banking system for stashing loot, clans and maybe even some PVP (player vs player) action. They really seem to be listening to and delivering player requests quite frequently.
The user interface and controls work pretty well. There's an attack button for your main attack and a virtual joystick for movement. You can also modify your controls so your character walks to wherever you tap on the screen. There's an auto aiming feature that will target the nearest enemy or you can manually target an enemy by tapping on them. The camera is at a third-person point of view and can be zoomed in and out using the pinch gestures. Looking around is done by swiping your finger across the screen. Your skills are along the right side of the screen and can be activated with a tap. There's also manna and health potion icons you can tap to use as well as a mini-map button and an emote menu button. There are health, manna and level bars for you and everyone else in your party as well as a chat function. Even with all this info the screen doesn't feel to cluttered—even on the smaller iPhone/iPod Touch screen.
The graphics in Pocket Legends have a pleasing cartoon look. The environments and characters look pretty cool and the attack and spell animations add a little extra flair. The in-game music and sound effects do a good job at immersing you further into the game as well.
Pocket legends is a leap forward in gaming on the App Store and works on all iPhones, iPod Touches and the iPad. I was surprised at how fluid the game ran over WiFi, 3G and even the Edge network with little to no lag. This game can prove to be quite addictive and you may find yourself playing for hours on end before you know it. As it stands right now it's a great game that only looks to get better and more in-depth over time. If you're into online RPGs you'll definitely want to give this one a try.
[Tim Mercer is a frequent contributor to Macworld and is deadly with a bow.]