It's amazing to think about how following sports has changed for the iPhone-toting fan. When the last World Cup final was contested four years ago, the iPhone didn't exist. When this year's tournament kicks off next month, you'll be able to choose from a host of apps for following all the action.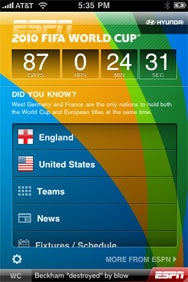 I took a look at ESPN 2010 FIFA World Cup, a free app from the worldwide leader sports that provides plenty of info for the international soccer fan anxious for the World Cup to start. Since the global event doesn't kick off until June 11, launching the app at this point brings up a large countdown timer at the top of the screen. The entire look of the app mirrors the bright color scheme adopted by the South African host nation and the tournament organizers.
Below the countdown, you can select from a menu of Teams, News, Fixtures/Schedule, and Tournament History. You can also select favorite teams in the settings panel, so a link directly to that team's page shows up at the top of the menu for quick access to news, rosters, and more. Along the very bottom of the screen is the familiar ESPN headline scroll, featuring only World Cup-related headlines. You can tap any of these to be taken directly to the ESPN story in the in-app browser.
ESPN promised to add additional features when this app debuted, and it's delivered so far. The 1.1 update added a Soccer Power Index—rankings for the top 100 FIFA teams. The developer also promises to add its popular GameCast feature once the games begin.
For now, ESPN 2010 FIFA World Cup in a good place to get your fix of World Cup info. It looks to be a very helpful app once the tournament begins this summer.
[Macworld Contributor Beau Colburn lives in Boston and posts iPhone photos on his site Snap different.]