Social publishing site Scribd is making a big bet on HTML5 and scrapping its three-year-old Adobe Flash investment.
The site, which features content from such publishers as Simon & Schuster and the Chicago Tribune, will have more than 200,000 pages of HTML5-based content live Thursday at 1 p.m. PT, the company said. Plans call for converting tens of millions of documents representing billions of Web pages.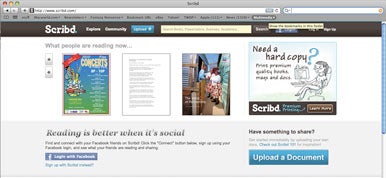 HTML5 is an upgrade to the HTML specification featuring multimedia capabilities. It has been gaining rapid momentum lately, with support from players such as Apple, Google, and Microsoft. Scribd will get rid of Flash entirely and convert all documents to native HTML5 Web pages, allowing any document to become a Web page, the company said. "Starting [Thursday], we are replacing the Flash document reader with an all-native HTML solution," said Jared Friedman, Scribd co-founder and CTO.
"We believe that the native browser experience is the best reading experience for documents" as opposed to Flash, which requires duplicating browser functionality inside a browser, Friedman said. Scribd users will get such functionalities as search, zoom, and scrolling via HTML5, he said.
"Previously, the Flash application needed to provide all that functionality itself, which meant that users had to learn and work with a whole new interface in order to manipulate what they were reading," said Friedman.
While Scribd is primarily a consumer site, it does have an enterprise business following, with uses like the downloading of business documents and document-sharing. "Scribd is the largest social publishing and reading site on the Web," Friedman said.
Documents on Scribd will be Apple iPad-friendly. Users will be able to read Scribd documents on handheld devices via HTML5.
In what has become a bitter feud, Apple has been championing HTML5 at the expense of Flash, leaving executives from Apple and Adobe sniping at each other. But Scribd's decision to move to HTML5 was made six months ago and was not prompted by what Apple is doing, Friedman said. Adobe could not be reached for comment on Scribd's plans late on Wednesday afternoon.
Scribd's transition to HTML5 allows readers to download electronic versions of books and read them in their browser as opposed to downloading through Amazon's Kindle application, Scribd said. The company also is integrating with Google Docs, meaning any document in any format can be converted to HTML5 in coming months. Document types that could be converted include Google Docs, Microsoft Office, Adobe PDF, and ePub.
Scribd's plans call for supporting HTML5 video at some point. HTML5 also will enable use of browser-based search engines for searching Scribd content.
Scribd will announce its HTML5 plans at the Web 2.0 Expo conference Thursday in San Francisco.