Manuscript is a creative writing toolbox from Black Mana Studios that enables you to outline, take notes, research, and write on your iPhone or iPod touch. The $4 app also lets you, in a limited fashion, import and export your work to Google Docs or to your e-mail account. The tools themselves are well thought out and provide lots of functionality for writers on the go.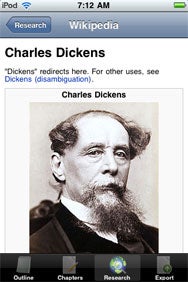 Manuscript's biggest drawback becomes clear when, after launching, you're greeted with a file-free "library" (the list of manuscripts you're working on) and two possible options—to create a new manuscript, or to import a Google Docs document (as opposed to a Google Docs spreadsheet or presentation, for example). If you don't already have a Google account, the app provides a button that, when pressed, takes you into Safari to Google's account creation page.
However, after you import a Google Docs document, you may discover that there's nothing there, except the file's original title and some empty HTML tags. That's because you can only import some Google documents. What types of Google documents Manuscript can import successfully is neither easy to figure out nor easy to explain. You can sometimes export Manuscript files to Google Docs and then re-import them to Manuscript (depending on how you choose to export the file and whether you're using the new or old version of Google documents, and apparently other variables), and changes, additions, and deletions you've made in Google Docs will stick—if you are able to download the document successfully.
In the developer's defense, it does say that exporting to Google Docs is "for backup purposes only." But the developer adds that you can import "any textual document to a format that Manuscript recognizes and imports." This may be true, but Black Mana has done a poor—or less than thorough—job of explaining how to accomplish this. Repeated attempts to do this following the simple instructions at the company's Website did not work.
You also can export Manuscript files to your e-mail account. In neither case can the process be automated—if you want backups, you'll have to do it manually, every time.
Manuscript shines when it comes to helping writers jot down random thoughts and ideals (via "notecards"), organize a single manuscript into chapters (which are exported as a complete, linked document), and perform basic research. You can also create a short "pitch," and a longer-form "synopsis," to keep track of where you've been and where you're going with your document. From within the app, you can select any word or phrase, and choose to look it up in a built-in dictionary/thesaurus, on Wikipedia (also integrated into the app), or via Google. In the latter case, you exit from Manuscript, as Safari automatically opens and performs the search.
The app taps into the iPhone OS's cut, copy, and paste capability when using the research resources; it is quick and convenient to look something up in Wikipedia, find text you want to use in your document or on a notecard, and copy and paste it in.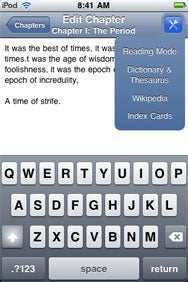 Manuscript also provides writers with a variety of basic—but good—default options. You can select from two different font styles in either 12- or 14-point type, choose whether you want to lock the app in landscape or portrait mode (or not), and pick the paper output size as either letter or A4.
If you like to (or must) write long documents on your mobile device, Manuscript is an option worth considering. However, it doesn't provide basic formatting options—like the ability to use bold or italics, or to indent long passages, for example. And its import and export capabilities—which the developer says it plans to expand in future versions—are both limited and quirky.
Other important elements of the app work very well and are about as integrated as the current iPhone OS allows. It will be especially interesting to see how this—and other apps for serious writers—are adapted to take advantage of the iPad.
[Jeff Merron is a freelance writer and editor living in North Carolina.]