How do you feel about walled French cities? Farmers? Roads? Cloisters? If you answered any of those questions with a full-throated rebel yell, then I'll presume you're already familiar with Carcassonne, the tile-based board game in which you lay out farms and cities and populate them. You'll likewise be glad to know that the game's making its way to the iPhone and, eventually, the iPad.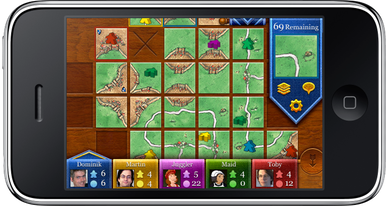 The adaptation of Klaus-Jürgen Wrede's popular game is being shepherded through production by its original publisher, Hans im Glück, and SubEthaEdit developers The Coding Monkeys. It's en route to the iPhone this May, featuring hot-seat multiplayer (pass and play), local multiplayer via Wi-Fi or Bluetooth, and Internet play. Also included are eight different AI opponents with differing strategies, including the Count and Countess, Maid and Servant, Juggler and Fortune Teller, and Witch and Warlock.
At its debut, the iPhone version of the game will cost $5. But the iPad version will be a Universal app, meaning that if you buy the iPhone version, you'll get the iPad update for free. Once that's out, the price will rise to $10—so buy early and get a deal.