Since its debut nearly two months ago, there's been a lot of talk about what the iPad can be used for—gaming, a notebook replacement, a one-way media smorgasbord. But there's just as much to talk about, if not more, in terms of how to use an iPad, and where.
The iPad's unique design poses some new questions about where a portable computer and media viewer can fit into our daily lives. I've spent a bit of time doing just about everything one can on an iPad, both at home and on the road, and I think I have some answers.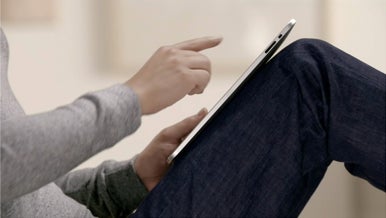 Consuming media
I love reading books, watching short videos, and playing games. Holding the Web in my hands on an iPad really does feel like a "we live in the future" experience. YouTube has a great experience whether using the native app or a video embedded on the Web, and the iPad's "check out this neat thing" factor cannot be overstated. When I find something interesting I want to share with someone, flipping the iPad around or handing it off is effortless; it immediately felt as natural as sharing a newspaper or book passage.
However, I'm not the type of person to watch a film or even a short TV episode on a device like this at home when my HDTV is across the room. More often than not, I browse the Web while watching TV, but I admit that probably isn't the "multi-tasking" which people have been asking for in iPhone OS. I've watched TV episodes on a train ride into the city, but it still feels a little weird using the iPad's large screen on the train. I'm sure that "New Gadget Paranoia" will disappear over time, and I have no doubt that I'll bring a film and a season or two for my next plane trip.
On the couch
Besides the Web, one could argue that the iPad was made for the couch. I love to curl up, stretch out, or put my feet up with a device that is so portable and flexible to lay around with. Consuming media and playing games is a blast, and my threshold for typing short bits of info has increased, whether I can use one hand or two.
As I'll discuss more in a bit, though, long-form typing is a different story on the couch. One-handed typing can work for little stuff. But between having to pull out a lap desk or deal with neck cramps, doing serious typing isn't my first choice while on the couch with my iPad.
But the iPad, whether it's mine or my wife's, has become our coffee table Swiss Army knife. Whether I want to pick up a book for a few minutes or research something we just saw on TV, our MacBooks stay tucked away in their bags a lot more often these days.
Before bed
Reading and surfing before going to sleep are great, though I hope more apps offer quick access to custom brightness controls like iBooks, Instapaper, and Kindle (I'm looking at you, RSS readers and Twitter clients). But like the couch, situating the iPad for most data entry was tough at first. I could prop the iPad up against my legs for viewing and reading, but data entry, again, took a hit. I can lie on my side with the iPad flat, but between eventual arm fatigue and my wife complaining when I have to type anything, that doesn't last long.
For a while I didn't type much more on the iPad in bed than a couple URLs, a tweet or two, or some story ideas in Things. Lately, I've been getting comfortable with holding the iPad up against my legs with my thumbs, and typing with only eight fingers. It's surprisingly usable.
At work
At first I couldn't find a good way to prop the iPad on a desk or a couch that was conducive to both accurate data entry and not throwing my neck or back out of alignment. I'm happy with holding the iPad with one hand and typing little bits of information like tweets or actor names in the IMDB app (which has a better experience on iPad than in a desktop browser, by the way). Apple's iPad Case with its built-in propping tool (and others like it) definitely helps solve this input conundrum on a lap or desk. Simple stands aren't much help on the couch, though, and cases or jackets add more bulk than I prefer, so I find myself between a personal rock and a hard place for now.
For a while, I resorted to the lap desk that I use for my 17-inch MacBook Pro when I wanted to do real data entry on the couch. That seems a little counter-productive though (why not just get out my MacBook Pro if I'm going to use the lap desk?), so then I tried using the iPad au naturel. I got comfortable with laying my feet flat on the floor, and my iPad flat in my lap. It feels a little weird looking at a screen that isn't perpendicular to my face, but I found this setup to be pretty useful. Thanks to the iPad's gorgeous, iMac-like IPS LED-backlight display, everything on screen looks bright and crisp even at such an unorthodox angle. In fact, I was happy enough with this setup that I used it to finish almost the entire first draft of this piece.
My neck complains after working this way for a while, though, so I don't think I'll be converting my office to a couch and an iPad just yet. Apple's case helps, but this is still too extreme of an angle to use for hours on end.
Tables and desks are a different story. I've used Apple's iPad Case for on-screen typing at coffee shop tables, or the stand that Incase includes in its Travel Kit Plus combined with a Bluetooth keyboard, and that turns the iPad into a real workhorse. Leaving my 6.5-pound MacBook Pro at home in favor of a small iPad bag felt liberating, and aside from the limitations of iPhone OS, I've had great days of writing, reading news, chatting, and managing my e-mail. iPhone OS 4.0, due out later this year for iPad with multitasking and other features, should make the iPad even more powerful and productive.
In the home
Away from the couch, I was surprised to see how quickly I got into the habit of not just carrying, but using the iPad while walking around the house. It feels natural, and the first time was almost entirely unconscious—I was reading a long post in NewsRack, and I got thirsty. Instead of putting my iPad down or carrying it under my arm, I got up and made my way to the kitchen, iPad in hand, eyes glued to NewsRack, as if it were a 21st century newspaper. Halfway to the kitchen I snapped out of it and had some nerd-remorse at first, but then I simply remembered that we live in the future. It's habit now, and I've also done it a few times with YouTube clips, especially if I need to bring the iPad to my wife mid-clip to share it with her.
Propped up with Apple's iPad Case in the kitchen, the iPad and Epicurious helped me make a salmon dinner that earned a five-star rating from my wife. I got a smudge or two on the iPad's display in the process, but I didn't experience any of the concern that using a notebook would have caused. I just wiped off the display when I was done and played a game while the salmon steamed, effectively smudging it again anyway.
On the road
Around town, I've found the iPad to remain pretty capable, if a little awkward at times. I find myself two-handing it like a book to read and surf while sitting at a coffee shop table, but occasionally I use it lying flat on the table for data entry. But when I do that for more than 20 minutes or so, I find my neck and upper back get strained. As I mentioned before, Apple's iPad Case is handy for propping up the iPad at a more productive angle, but I would prefer something like the Crabble stand for iPhone and a Bluetooth keyboard so I don't have to wrap my iPad in a cumbersome sleeve or deal with a cranky neck.
The iPad is great on the train or a car ride. I find myself reading books, news, and Twitter, and Maps and Urbanspoon are great examples of the "giant iPod touch" effect. Maps mostly did just "get bigger" (and that's not a bad thing), but Urbanspoon can now display a map of all the restaurants in your immediate area below its "where should I eat?" gambling machine.
Interestingly, I find that I don't use media very often on-the-go. I'll plug in headphones for some music If I'm sitting down at a coffee shop for a writing session. I've watched a couple of TV episodes on the train, but my rides usually aren't that long so I typically stick to news, a game, Twitter, or Things.
In the hands
The iPad can be hard to hold at times. Its finished aluminum back can make it just slippery enough on some days or in some orientations, and a 1.6-pound gadget can wear on one's forearm stamina after a while. A case can certainly provide a more graspable texture, but then you also add at least a little weight and more physical material to handle.
I've found that, after spending a decent bit of time reading a book, browsing a lot of news, or watching a TV show, I often need to prop one or both arms, whether it be on a couch or a coffee table. This isn't really a bad thing, though. The Kindle may weigh next to nothing by comparison, but people have been reading books that weigh far more than the iPad for eons. I find a way to work with it and keep on trucking.
Final thoughts
I've been using an iPad since early April, and I've come to appreciate it as both one of the best media players available and a capable "MacBook mini." The iPad's screen is gorgeous, it's light enough to bring and use in more places than my MacBook, and I can get some general work done on it.
But for me, in the debate over whether the iPad is a laptop replacement, it loses points not out of performance limitations, but because of input constraints. The simple act of holding an iPad in many situations means that its very large media experience becomes more intimate, but one's productivity is often cut in half. A portable stand and keyboard offer a big boost to iPad productivity, but then you have to ask yourself: how light are you actually traveling if an iPad requires a bunch of extra equipment? It's a tradeoff, as most things in life and technology always are—the iPad gains a rich, extremely portable media experience in exchange for a little productivity. It brings certain tasks and media to places in our lives that they have not been able to go before, at least not elegantly.
[David Chartier is an associate editor at Macworld.]
Apple iPad Tablet Computer
Apple iPad Tablet Computer
iPad with Wi-Fi 16GB
Price When Reviewed:
$568
iPad (2010)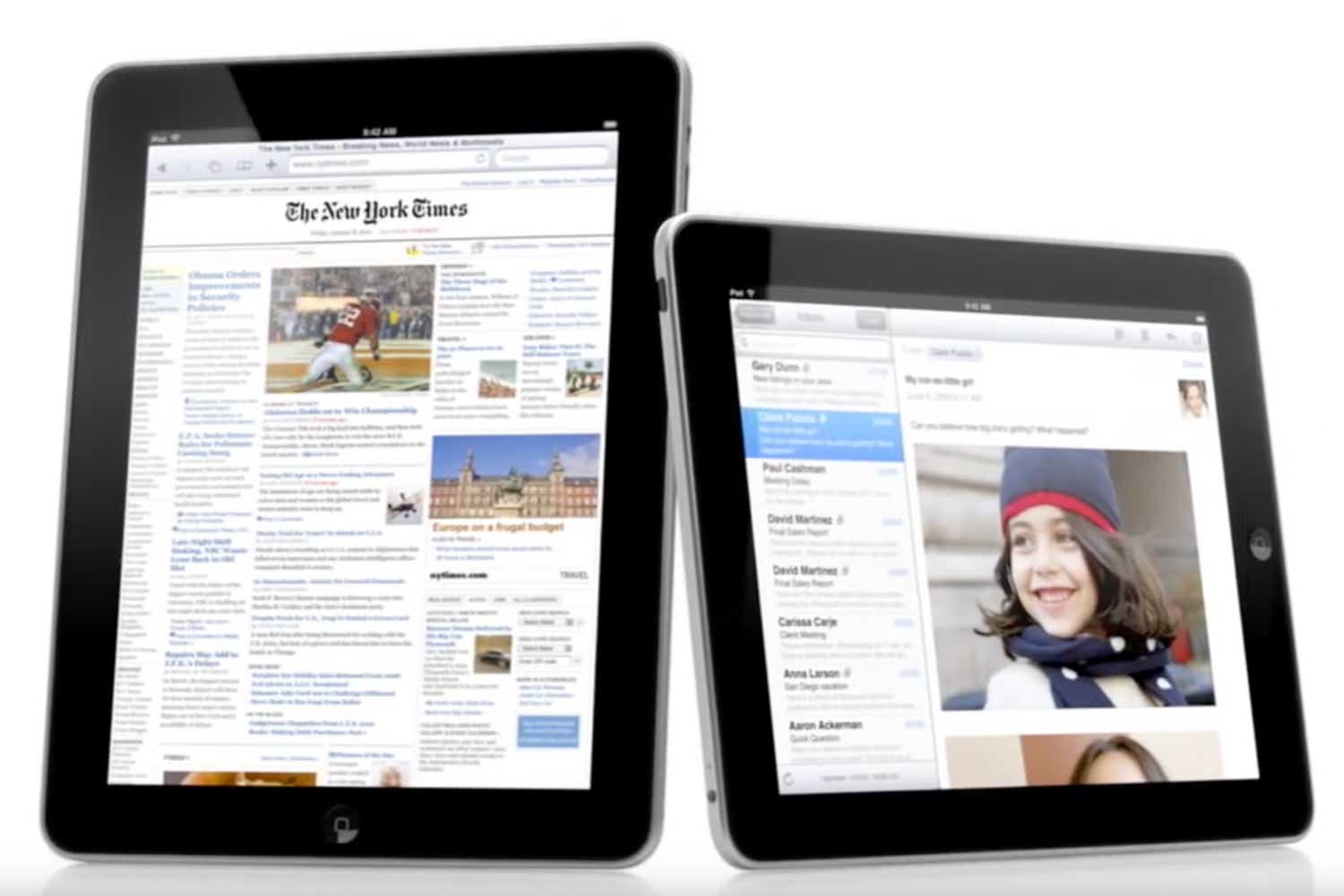 Read our full
iPad (2010) review