For whatever reason, Apple refuses to outfit a Mac with readily-accessible eSATA ports. The company seems to think that FireWire and USB are enough for external devices.
OWC says there's enough customer demand for eSATA and they're stepping up. On Friday, OWC announced an eSATA upgrade for the new 27-inch iMac. But it's not an upgrade you can do yourself. You'll have to send your iMac to OWC so they can install the eSATA kit. OWC says they can do the installation and ship the iMac back to you in 48 hours or less.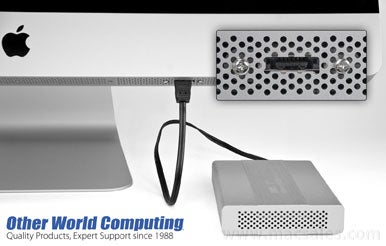 When you get your iMac back, you'll find a single eSATA port to the right of the RAM slots. (In the comments section of OWC's blog entry about the eSATA upgrade, an OWC representative says that "limitations inside the [iMac] case" prevent OWC from placing the eSATA port anywhere else.) You can then connect eSATA-equipped storage devices using your own eSATA cable or an OWC Flexible eSATA cable that is included with the service.
The eSATA upgrade is just one service provided in OWC's new Turnkey Upgrade Program for the new 27-inch iMac. OWC can also upgrade the iMac's RAM (which you can do yourself) and the main hard drive (which you can't upgrade yourself without performing some major surgery on your iMac). Your old memory can be sent back to you or it may qualify for an OWC trade-in rebate. And your old main hard drive can be put into an OWC external case, or OWC will sell you a VoyagerQ Serial ATA Drive Dock for $79.
The eSATA upgrade is $169. RAM upgrades range from $118 to $560, depending on the amount of RAM. The hard drive upgrades are priced between $139 to $1650, with solid-state drives available at the high end. There's also the price of shipping, which varies based on the type of shipping service selected.
OWC says the eSATA upgrade can be performed on all of the new 27-inch iMacs (model identifier 11,3).
OWC offers a limited one-year warranty on the upgrade service and installed products. But do any of the upgrades—especially the eSATA upgrade—void Apple's warranty? Apple representatives were contacted on Friday for clarification, but a response has yet to be received.
27-inch Core i5 iMac/2.8GHz (quad-core)
Price When Reviewed:
$1629.95
27-inch Core i3 iMac/3.2GHz