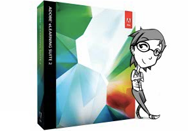 Sure, Apple and Adobe may not be on the best of terms right now, but there's no need to start fearing a mass Adobe exodus from all things Mac. In fact, this week Adobe announced it was bringing a product to the Mac platform in June— Captivate 5.
The authoring application used to create tutorials and demonstrations, was previously only available for Windows users. Captivate allows full motion recording, tests, interaction with Adobe AIR and Acrobat.com, and new features like animation, synchronized video, and object style editing.
Captivate provides the centerpiece for Adobe's eLearning Suite 2 bundle, which additionally includes CS5 versions of Dreamweaver, Photoshop Extended ( ), Soundbooth, and, yes, Flash—though Adobe Presenter remains Windows-only.
The bundle will be available for $1799 or $599 as an upgrade, and users will be able to purchase Captivate separately for $799 or upgraded for $299. Both the suite and standalone product are currently available for pre-order on Adobe's Website and will ship in mid-June.
Captivate 5 and the eLearning Suite are compatible with Intel Macs running OS X 10.5.7 or later, or Windows PCs running XP or later.